Austin Gets Moving!
The YMCA of Austin, Texas, is coming up with innovative and creative ways to make combating childhood obesity a local priority. The YMCA partnered with the Mayor's Fitness Council to kick off Let's Move Austin in January, and has since become an inspirational model of leadership and cooperation with the Let's Move Faith and Communities initiative!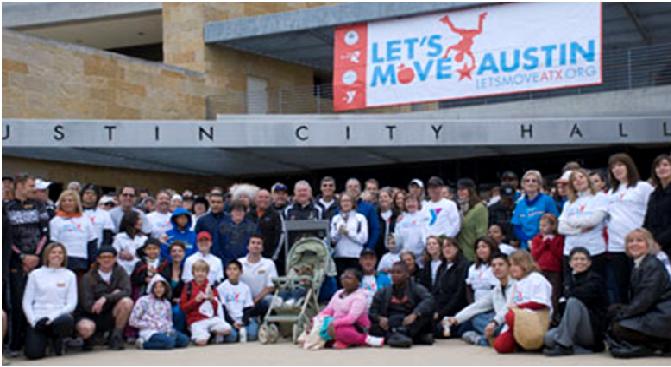 Austin Mayor Lee Leffingwell heads the Mayor's Fitness Council, which aims to support and inspire people to improve their health by encouraging physical activity, improved nutrition, and tobacco-free living. In November of 2010, Mayor Leffingwell issued a proclamation voicing his support for the First Lady's Let's Move! initiative and designating 2011 as "Austin's Let's Move! Year." The Mayor's dedication to this important cause has made it possible for community-based organizations like the YMCA to work with the local government to engage the entire Austin community. "The Mayor's support and enthusiasm was a key reason the YMCA got behind the Let's Move campaign. His strong leadership really helped to focus our efforts," says Sean Doles, Marketing and Communications Director at the YMCA of Austin.
The City of Austin and the YMCA of Austin teamed up to host Let's Move Austin Day at the YMCA, inviting members of the community to visit the seven Austin area YMCA locations for a range of free activities designed to help people get up and get moving. These activities included free sampler group exercise classes, wellness orientations, indoor swimming, sports, active games for kids and more. Let's Move Austin Day was attended by over 750 residents and served as a great opportunity for families to learn about healthy living and see the wide range of resources available at their local YMCA.
The YMCA is integral to providing health services to community members and was grateful for the opportunity to partner with the Mayor's office on this important initiative. "We have a large at-risk population that doesn't have easy access to affordable healthy foods or exercise options. I believe it's our responsibility as a community to try to help change that," says Julie Byers, the First Lady of Austin. Let's Move Austin Day is a great example of community-wide collaboration to give all Austin residents the tools necessary to make healthy decisions.
To learn more about Let's Move Faith and Communities and how to engage your community in the First Lady's initiative, please visit the Let's Move Faith and Communities website.