Swim, Bike, Run: D.C. Area Youth Give It a "Tri"
Imagine swimming four fast laps of a pool, jumping out dripping wet, and riding a bike for 2.1 miles—all before putting on running shoes to cover over a one-mile stretch to the finish line. I get tired just thinking about one of those segments, let alone doing all three.
Last Friday, August 5, more than 100 Washington, D.C. area youth competed in all three sports at the Anacostia Recreation Center through ACHIEVE Youth Triathlon Summer Camp. ACHIEVE is a non-profit organization that offers youth ages 9 to 14 a free summer camp to expose kids to the many benefits that come from participation in endurance sports. They have incorporated the Presidential Active Lifestyle Award (PALA) in all of their camp site programs this summer and their Executive Director, Molly Quinn, received this year's Community Leadership Award from the President's Council on Fitness, Sports & Nutrition.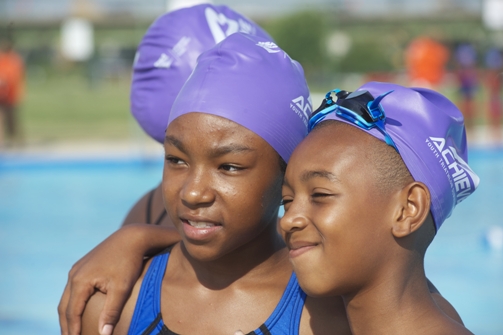 ACHIEVE athletes pose for a picture prior to the start of the swim portion of the triathlon. (Photo by Jim Atkinson)
Kids attend camp five days a week for six weeks, and put in multiple hours of training in the pool, on the bike and on the track in preparation for the final triathlon. The program's training camp not only teaches campers to swim properly, bike safely and run efficiently, but to appreciate multiple sports, enjoy physical activity and fuel their bodies with proper nutrition.
The triathlon was the culmination of many weeks of hard work and training led by ACHIEVE camp leaders and instructors. Through a unique public-private partnership between ACHIEVE and the D.C. Department of Parks and Recreation, all training for the triathlon took place at D.C. area recreation facilities. ACHIEVE launched similar programs in Houston, Atlanta, and Waterbury, Conn.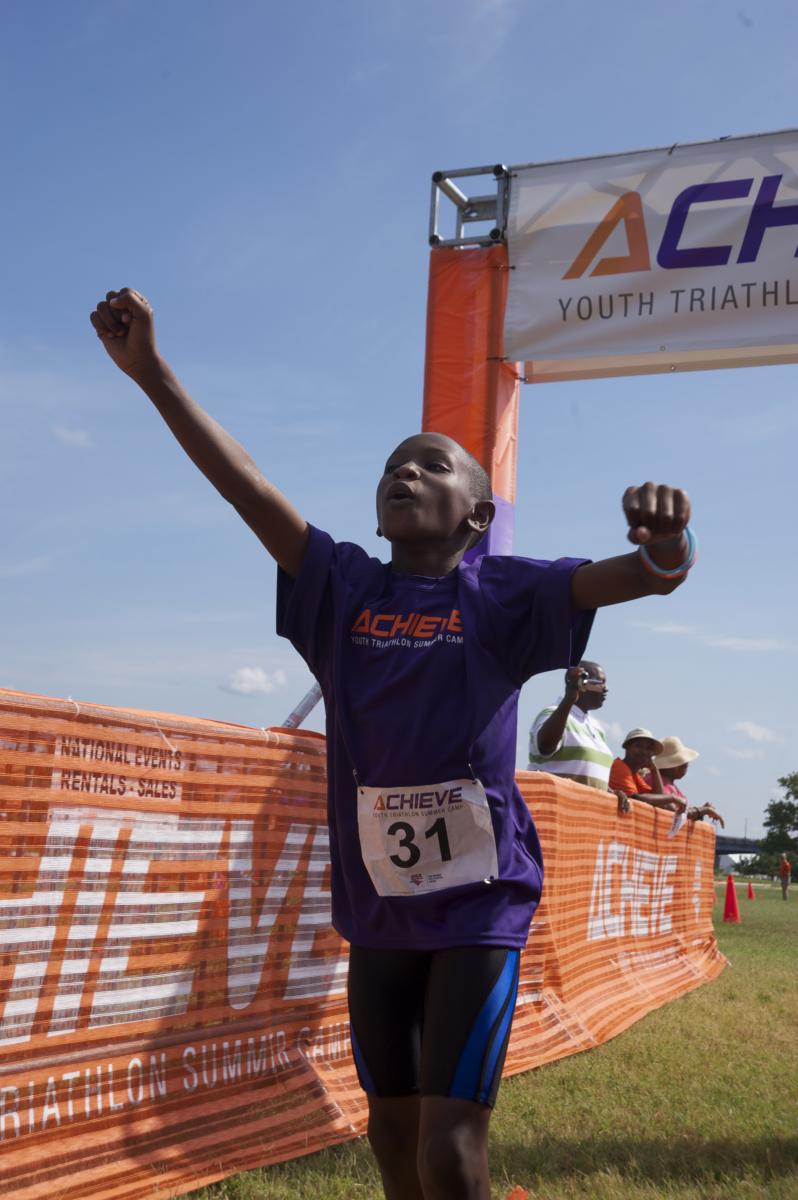 ACHIEVE athlete crosses the finish line completing the triathlon on August 5, 2011. (Photo by Jim Atkinson)
On Friday morning, the young athletes crossed the finish line with their hands in the air and huge smiles on their faces. Each camper's hard work was rewarded with medals for completing the triathlon, as well as patches and Presidential Active Lifestyle Award (PALA)certificates signed by the President, recognizing their six weeks of training. Many campers were not physically active prior to this summer's camp, and we hope that the PALA award will serve as their personal benchmark to continue a lifetime of healthy living.
You don't have to be a triathlete to earn your PALA! All it takes is 60 minutes of physical activity a day for kids (30 minutes for adults), five days a week for six weeks. You can swim, bike, run or do another physical activity you enjoy. Sign up today at www.presidentschallenge.org!