Let's Move Faith and Communities inspires fresh produce for 100 food pantries
Since First Lady Michelle Obama's recent announcement of a private sector commitment to build or expand 1,500 food stores, Americans across the countryhave been inspired to increase their communities' access to healthy, affordable food. Ample Harvest has risen to the First Lady's challenge to faith and communityleaders to make fresh produce available for at least 10,000 locations in America through Let's Move!, her initiative to reverse childhood obesity. Since it began partnering with Let's Move Faith and Communities, Ample Harvest has brought fresh produce to more than 4,000 food pantries across the country. In July, 100new food pantries joined the movement.
Ample Harvest is an innovative, non-profit organization that uses its website to connect gardeners who have excess produce to food pantries in need of fruits and vegetables. Ample Harvest not only helps diminish hunger, butalso helps to improve nutrition of families without enough access to fresh produce, one of the First Lady's primary concerns for America's children.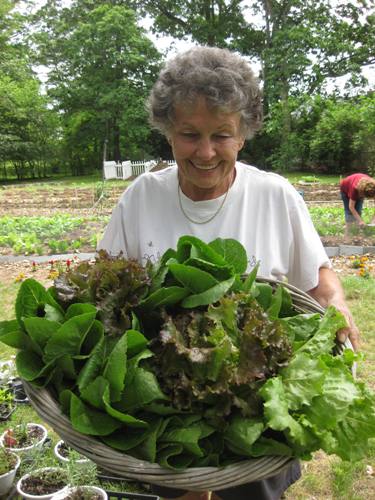 Camille Gaynor, volunteer at The Garden of St. Mark's, smiles after harvesting a basket of produce to donate to her local food pantry.
That deep concern matches the need. Across the country, 6.5 million children live in food deserts without easy access to nutritious, affordable foods. Ample Harvest is addressing that problem, and in just two years, communities have responded overwhelmingly. When Gary Oppenheimer started Ample Harvest in May of 2009, he did not imagine the incredible response from gardeners and participating food pantries: "According to lots of feedback we're seeing, AmpleHarvest.org is making a difference. . . more and more gardeners are donating food now that they know they can. . . and now that they know where they can."
This year, Ample Harvest estimates more than 700,000 pounds of fresh produce have been donated to food pantries. Oppenheimer was named a CNN Hero for his work to ensure that those food pantries have fruits and vegetables to give to families in need. Since 2009, Ample Harvest's participating food pantries have collected more than 3 million pounds of locally grown produce from gardeners donating produce from their own backyards.
And by connecting to food pantries, gardeners are truly able to share their harvest. Gardener Rachel Malkin from Urbana, Maryland, wrote, "We are having an incredibly bountiful harvest this year, so much more than we can eat or give away. Thank goodness we found Ample Harvest! We have donated about 40 pounds of cucumbers, zucchini, squash in the past four days, plus cuttings from our mint, oregano, and basil plants. We expect the tomatoes to take off soon as well, and we will add them to the bags for the food pantry. We are thrilled to be able to donate these delicious fresh veggies, and hope that the people who receive it enjoy them."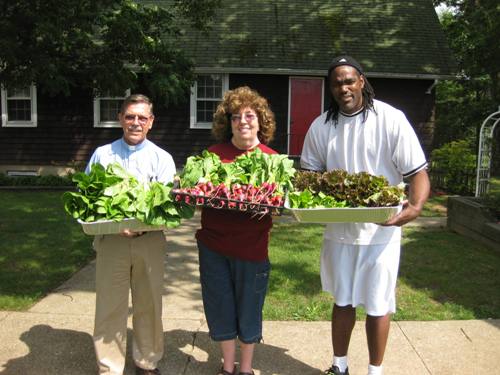 Chaplin Wally Merner, manager of LICC Emergency Food Center, Ann McPartlin from The Garden at St. Mark's, Gregory Lucas, food pantry worker, showcase freshly harvested produce.