Erie, PA hosts "Let's Move at the Playground"
Last month "The Erie on the Move Taskforce," Erie, Pennsylvania's local chapter of the Let's Move! Campaign, hosted a day of fun at the Holland Street Playground in inner city Erie. Entitled "Let's Move at the Playground," it offered an opportunity for over 100 neighborhood kids to get out and move while bringing neighbors and community members together to enjoy one of Erie's public parks.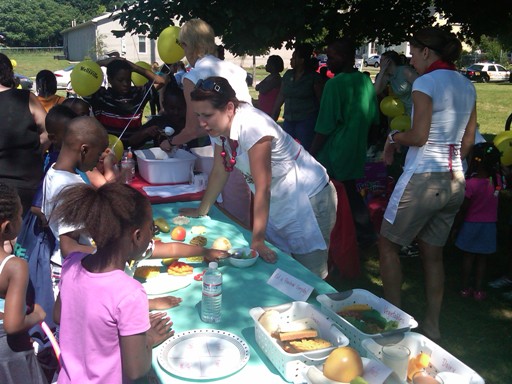 Children had the opportunity to enjoy a "fun zone" featuring games and activities designed to teach kids how to be active and eat healthily. Healthy eating was further reinforced in a fun manner at the "Kids in the Kitchen" station, where kids learned about healthy portion sizes and food groups and even put together their own bag of healthy trail mix. In addition, families received a potted tomato plant so they could begin their own gardens. The Family Fitness Drill encouraged everyone to jump over hurdles, high step through agility ladders, and run around an obstacle course of cones in the name of healthy play habits.
Erie, PA Mayor Joseph Sinnott stopped by to play and greet families, along with members of the Erie Police Department. "It's great to see this many kids out having a good time and learning about healthy eating and playing habits," Mayor Sinnott said.