Islamic Relief USA Starts Its First Summer Food Service Program
Islamic Relief USA (IRUSA), a faith-based disaster relief and development organization, celebrated theinauguration of its Summer Food Service Program (SFSP) with a ribbon cutting on Thursday, July 21, at An Nur School in Lanham, Maryland. The ceremony also marked the IRUSA's support of Let's Move Faith and Communities, First Lady Michelle Obama's initiative to engage faith-based and secular non-profit organizations in feeding kids over the summer when school is out.
The First Lady has challenged faith and community leaders to host 1,000 new SFSP sites, where kids gather to eat a healthy breakfast or lunch. IRUSA has pledged to host 50 new sites this summer. The ribbon cutting ceremony marked the opening of An Nur School's summer feeding program as well as 30 other new SFSP sites supported by IRUSA!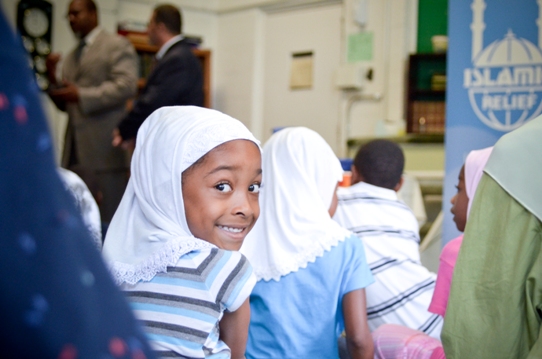 One of An Nur's aspiring summer school student awaits her turn to receive a lunch bag (Photo courtesy of IRUSA)
The IRUSA ceremony highlighted its collaborative partnership with USDA's Center for Faith-Based and Neighborhood Partnerships. "We're proud to join USDA and members of the faith-based community to help make sure children in our neighborhoods don't go hungry in the summer," said Abed Ayoub, IRUSA's CEO. IRUSA's mission is to alleviate suffering, hunger, illiteracy, and disease regardless of color, race, gender, or creed, and to provide aid in a compassionate and dignified manner.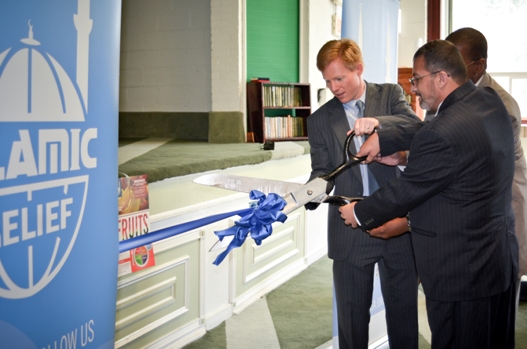 USDA's Max Finberg and IRUSA's Abed Ayoub cut the ribbon launching summer feeding program at An Nur (Photo courtesy of IRUSA)
The ribbon cutting ceremony exemplified IRUSA's commitment to its mission of feeding hungry children. More than 50 students and school staff gathered in the school's prayer room to exchange greetings and blessings with Max Finberg, Director of USDA's Center for Faith-Based and Neighborhood Partnerships and IRUSA representatives, who passed out free lunch bags to the children after the ceremony. Kareema Dickens, principal at An Nur School, gave heartfelt remarks: "We are very grateful to USDA for helping us feed our students this summer and letting us know about this wonderful program. We hope to continue this partnership and serve meals to our students throughout the year."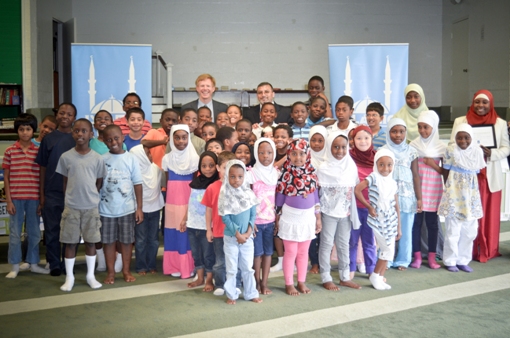 An Nur summer school students pose for a group picture with staff and administrators (Photo courtesy of IRUSA)