Spotlight: Young Leader Robert Hsu Plants Gardens and Works on Health Education in His Community
Robert, an 18 year-old from Nova, Michigan, is a youth health advocate who is focused on creating a healthier future for youth in his community. After living through his grandmother's struggles with diabetes, Robert felt compelled to enable others to live healthier lives through education, awareness, and advocacy. He has improved his school's cafeteria, created a health committee that never existed at his school before, helped to start and fund two gardens in his school district, and hosted a public forum on youth health. He also taught health sessions at his local library, organized a heart health awareness day at school where he educated his peers at school about the importance of staying healthy, and organized a basketball tournament to raise money for heart disease research.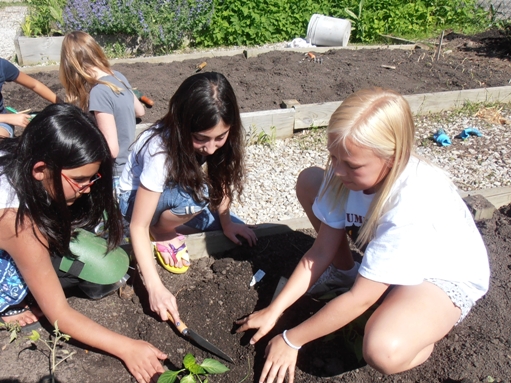 Girl Scout Troop 40473 gives their green thumb to the new garden.
Last year, Robert was invited to meet with First Lady Michelle Obama and Mayor Cory Booker to discuss childhood obesity and nutrition in schools. This past June, Robert presented his projects at the National Conference on Volunteering and Service. Next year, Robert will be attending the University of Pennsylvania to study biology and business, with hopes of going into medicine and public health afterwards. Let's Move! is lucky to have youth advocates like Robert, and I was fortunate enough to catch this busy young man for an interview.
What got you started on your community garden projects?
I found that there was a lack of youth-run community gardens and wanted other students to develop a greater appreciation for fresh, natural, and healthy fruits and vegetables in my community by getting youth engaged in the growing process at an early age. It was my goal to help young people understand where their food comes from and how it is grown. Community Gardens are also a great way to create sustainable partnerships between the high school and middle/elementary schools and I hope these partnerships can be used in the future to implement more health-related projects in my town.
What do you feel are the greatest needs among the school children you work with?
Comprehensive health education curriculum. Health education programs in elementary and middle schools were cut years ago due to budget issues. Many of the children in my community are able to maintain a healthy weight due to lessons and good habits passed on by their parents, but there are still important lessons missing like how to read a nutrition label and the new MyPlate healthy guidelines.
What changes have you seen in the school children since the inception of the garden project?
We are still in the early stages of this project because Michigan's growing season begins so late in the year, but the school children seem so much more excited about gardening, spending time outside and what they are eating in general.
What motivates you to spend so much time working on these issues?
After seeing my grandmother suffer so much from diabetes due to her lack of education and awareness around nutrition and exercise when she was younger, I felt compelled to create a healthier future for others so that they would not have to suffer like my grandmother did. I enjoy working with children because they are so open-minded and you can really change their habits if you catch them at a young age. I have learned that there is a very short time to impact the type of adult a kid becomes, so it is crucial to begin teaching kids the right things from the start.
How do you think we can get more role models and mentors like yourself to help their communities raise a healthier generation of youth?
To me there are things that individuals must do and society must do. I think individuals need to realize that what they do influences others. Parents may feel that buying fast food and eating junk food around the house is harmless, but children pick up on these habits. Teachers can also act as healthy role models at school, given that children spend so much time at school. By making healthy habits seem normal and incorporated into daily activities, teachers can help children grow into healthy adults who will then influence their next generation of youth.
Society as a whole must collaborate. For example, the government has done a wonderful job of bringing nutrition and exercise to the forefront of the nation's attention. Having prominent public figures such as First Lady Michelle Obama model healthy behaviors will make being healthy "fashionable" which could help create more healthy role models and mentors. Businesses, communities, and schools will need to work together to inspire youth to take charge of this issue. Schools can form health clubs, such as the one that I have at my own school. Cities, counties, etc. can form youth health committees focused on finding ways to improve the health environment of the area and sign up to be part of Let's Move! Cities and Towns.