Bureau of Indian Education Getting Serious About Health and Wellness in Indian Schools
Each year thousands of educators unite from around the country to attend the Bureau of Indian Education's (BIE) Summer Institute, the BIE's largest annual training event, to work on improving American Indian/Alaska Native student education. This year was no exception: approximately 2,400 participants attended the annual event in Reno, Nevada from June 20-24, 2011. But something was a little different this year than in years past. So what was different? In the past, the event focused completely on targeting core academic areas. This year, the BIE, decided to get serious about getting healthy in Indian Country by supporting the First Lady's Let's Move! in Indian Country and encouraging educators to take a stand on helping to reduce childhood obesity within a generation by sponsoring several Let's Move! in Indian Country inspired events.
Obesity rates among American Indian/Alaska Native youth are sky high and growing at a faster rate than any other ethnic group. So what role can the BIE play to help reduce this? Approximately 50,000 American Indian/Alaska Native youth spend one-third of their day in the BIE school system. Students get the majority of their caloric intake and physical activity as part of the formal school day through the school meal program and through physical education. Because of this, the BIE school system is a major player in helping the First Lady to accomplish her goal and to improve the health of thousands of Native youth across the nation.
"I am a full supporter of the First Lady's, Let's Move! in Indian Country initiative," said Keith Moore, Director, BIE, "I believe the BIE has a tremendous responsibility to help improve the health of the school environment and to help students become healthier. But students alone cannot accomplish this; it's going to take everyone in the school system and in the community to make a difference. Obesity isn't just impacting our students; it's impacting our educators and other adults across Indian Country. Everyone is going to have to work together to support one another, change our lives, our habits, and live by example for our youth in order to make a difference."
To demonstrate their commitment, 141 Native educators from across the country participated in the First Annual BIE 5K Fun Run. Individuals representing a variety of tribes and schools participated in the event, including the BIE, Director, Keith Moore.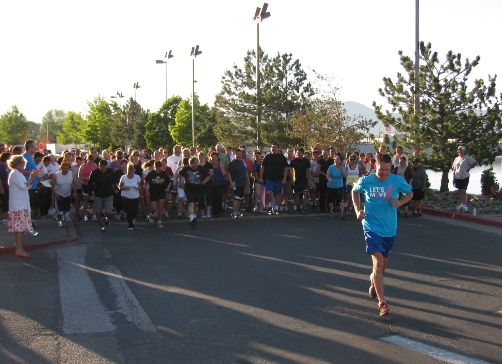 BIE Director, Keith Moore, leading off the BIE's First Annual 5K Fun Run (photo by Jason Long)
"Of course there were many laughs and smiles at the beginning of the 3.2 mile run/walk and many congratulations and high fives at the finish line," said Eric North, School Safety Specialist and coordinator of the fun run event. "It was fun and we look forward to continuing to support Let's Move! in Indian Country in the future with the 2nd Annual BIE 5K Fun Run."
The top women finishers were (1) Ramona Roach, (2) Ernestine Singer, and (3) Edith Puente and the top male finishers were (1) John McIntosh, (2) Director Keith Moore, and (3) Melton Allison. The youngest individual to complete the entire 5k was 10 year old Khadija Lapahie.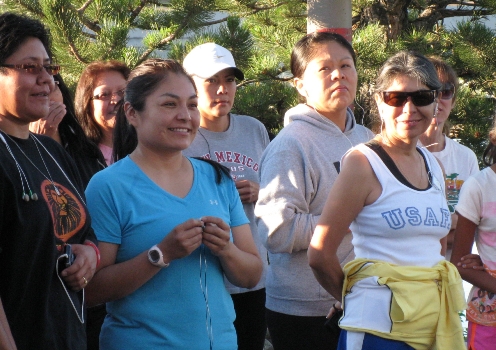 Some of the 141 participants prior to the First Annual BIE 5k Fun Run (photo by Jason Long)
The BIE also brought Let's Move! in Indian Country resources to school administrators by inviting over 40 supporters to host targeted hot topic sessions focused on health and wellness areas including, but not limited to: cultural physical education curriculum, creating safer walking/biking routes to schools, and developing school health and wellness policies.
"I know that there are resources out there to help our schools get healthier, but the schools may not know that. What Let's Move! in Indian Country has done for us is bring the resources to us. Our school administrators don't have to spend valuable time away from core instruction searching for these resources because they are all right here in the Let's Move! in Indian Country toolkit. What we are doing here, is getting the word out. We are bringing the resources to our schools and getting our educators to start talking about the issues and getting committed," said Keith Moore, Director, BIE.
On June 20, 2011, the BIE also hosted the first education focused federal panel on "Creating a Healthier School Environment" in partnership with the U.S. Department of Agriculture, Food and Nutrition Services, U.S. Department Health and Human Services, Center for Disease Control, and the U.S. Department of Transportation, National Center for Safe Routes to Schools. Approximately 120 BIE educators participated in the session and held dialogue on the topic.
"The work can't stop here" said Keith Moore. "Our educators have got to take these resources back to the school now and the public schools have got to get involved too. Only 7 percent of American Indian/Alaska Native children attend our schools. The remaining 93 percent attend public and private schools. These schools have got to make changes too and I am happy to see that the Department of Education is a partner in this initiative."
To learn more about Let's Move! in Indian Country and how to create a healthier learning environment, visit letsmove.obamawhitehouse.archives.gov/indiancountry!