Memphis Kicks Off Let's Move! With their new SAFE Zones
Last month, the City of Memphis, Tennessee officially kicked off their Let's Move! Program. Memphis Mayor A C Wharton, Jr. along with over 170 children showed their support for the First Lady's Let's Move! initiative during a celebration and announcement event at the Hickory Hill Community Center. The event kicked off with Beyonce's Let's Move! flash workout led by scholars from Power Center Academy, which served as a great backdrop for Mayor Wharton's unveiling of the city's first SAFE Zone.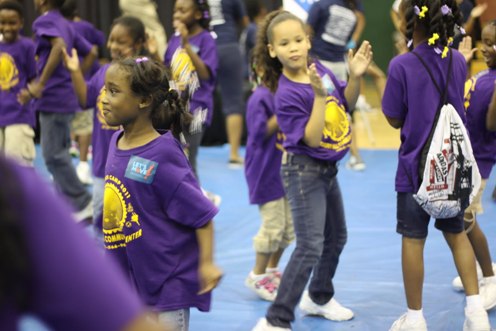 Hickory Hill Community Center summer camp participants show that being healthy can also be a lot of fun. (Photo by Captured Moments Photography)
SAFE Zones (Shared Areas of Fitness and Exercise) are 25 locations in the city including parks and other neighborhood fitness areas that experience high levels of physical activity before and after work hours. The city will roll-out all 25 locations prior to June 2012. As part of a partnership between the City of Memphis' Division of Park Services and the Memphis Police Department, SAFE Zones will have redirected patrols during peak workout hours to provide residents with a visible police presence in an effort to increase the community's physical activity.
Neighborhood leaders, known as SAFE Zone Captains, will be actively engaged in the areas and work closely with residents and officers who patrol during SAFE Zone hours. SAFE Zone Captain tool-kits are provided to neighborhood leaders in areas where the SAFE Zones are located. Neighborhood leaders are then invited to information sessions about the program and when their designated SAFE Zone is set to be unveiled. Mayor Wharton said, "These locations already have the amenities that attract residents to move. Especially during the summer, we want to provide the best environment to help our families get out and get moving and feel safe while doing so."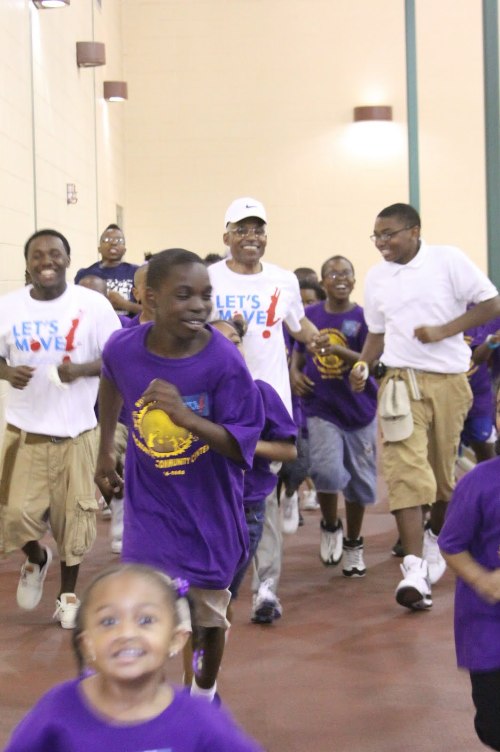 Memphis Mayor A C Wharton, Jr. jogs with summer camp participants. (Photo by Captured Moments Photography)