Athletes Get 800 Campers Moving
A few days after the Lets Move Indian Country launch, the annual Native Vision Camp was held in New Mexico as part of an ongoing partnership between the NFL Players Association and the Johns Hopkins Center for American Indian Health. The community of Shiprock, N.M. and tribe Navajo Nation played host to the 2011 event, which highlighted the importance of health and fitness among Native American youth.
More than 800 campers, representing various tribes from across the country, took part in the 15th edition of Native Vision Camp, spending three days teamed with professional and collegiate athlete-mentor volunteers. Along with their athlete-mentors, campers participated in a variety of activities geared towards fostering all facets of their personal well-being. This year's camp welcomed 62 athletes who coached clinics in football, basketball, soccer, volleyball, running and lacrosse and imparted their on- and off-field leadership skills on camp participants.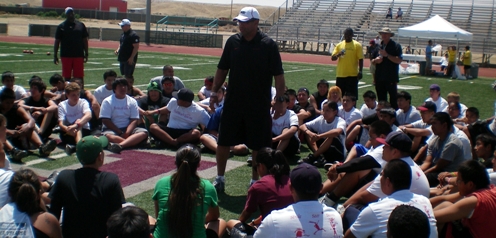 Native Vision campers get instructions on the day's activities including basketball, football, running and lacrosse.
"We at Johns Hopkins are thrilled by how the Native Vision camp continues to grow in scope, impact and depth" said Allison Barlow, co-founder of Native Vision. "The Shiprock community made a huge investment of time and talent, and equally our Native Vision athlete-volunteers delivered their personal best back to the campers and community members. It is these reciprocal efforts that not only build healthier, stronger tribal communities, but a better United States citizenship—as we all learn and grow together."
The event had a profound impact on children and their athlete-mentors alike. "The camp experience means a lot to the kids, but it means so much more to the athletes that come to train the kids," said Joe Briggs, camp mentor and public policy counsel at the NFLPA. "Year after year, you see the growth and desire to learn increase in the eyes of the kids from day one of the camp until the ending ceremony. And what is more remarkable … you see that during the course of the year, the light never went away and the kids' desire to get better not just in the sport but in all aspects of their individual and collective eyes has also grown."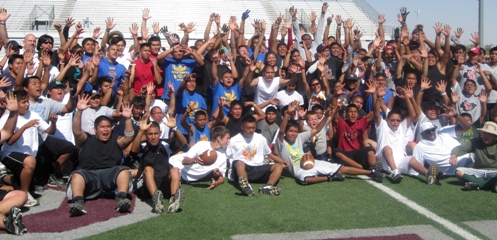 800 Native Youth participated in the 2011 Native Vision Camp in Shiprock, New Mexico.
In addition to sports clinics, the camp featured workshops in leadership, arts and crafts and media, all designed to provide the children with tools to make positive choices for healthy lifestyles as they transition to adulthood. Parents attended a cooking workshop led by members of the Marriott chef staff as well as a financial literacy workshop led by representatives from Barclays Bank.
The success of this year's camp reflected the dedicated efforts of several organizations and groups. In December 2010, the NFLPA and the Johns Hopkins Center co-hosted the annual "Evening With the Stars" gala to benefit the Native Vision initiative. That event featured numerous distinguished guests including former NFL players, NFLPA Executive Director DeMaurice F. Smith, Grammy-award winner and Wolf Clan member of the Iroquois Confederacy Joanne Shenandoah and Jodi Gillette with the Department of the Interior and supporter of Let's Move Indian Country. Nike, Easton Sports, deBeer, Reebok and the Johan Cruyff International Sports Institute contributed significantly by providing apparel for campers, volunteers and athlete-mentors plus athletic equipment to facilitate the sports clinics.
The annual Native Vision summer camp is a fundamental symbol of a program that has served more than 5,000 youth, 2,000 families and 25,000 Native American community members since its 1996 launch. Native Vision has brought together professional athletes in a continuing effort to provide children with opportunities to learn and grow physically, mentally, emotionally and spiritually within their vibrant communities. Underscoring the Native Vision initiative's commitment to encouraging educational achievement among adolescents, scholarships were again awarded to two college-bound Native American students at the camp.
Fifteen years into its journey, the Native Vision's mission to motivate and empower youth was alive and well at camp, continuing to hold much promise for the future. Ernie Conwell, a former NFL player who works as a player advisor at the NFLPA said, "Witnessing the immediate, positive impact the athletes and experts had on the students reinforced that we can collectively and individually make a difference."