An Edible Schoolyard Grows in New Orleans
It didn't look like much of a school in 2005, with the barbed wire fencing and modular classrooms crowding the yard, yet FirstLine Charter Schools founders saw the potential to turn children's lives around. But just ten days after opening their doors, Hurricane Katrina struck, bringing five feet of flood waters to cover the school grounds.
An ambitious recovery effort formed in the wake of Katrina's destruction, and with the help of dedicated volunteers and a bit of star power, the humble grounds of Samuel J. Green Charter School transformed into Edible Schoolyard New Orleans. Sowing, growing, harvesting and cooking are part of the curriculum served up at this innovative K-8 school.
Many people sought ways to help in the aftermath of Katrina, including Chef Alice Waters who founded Chez Panisse Foundation, the organization devoted to promoting Edible Schoolyards. With the help of local food legends such as Emeril Lagasse and New Orleans Saints Quarterback Drew Brees, the garden opened in 2006.
Where modular classrooms stood, a one-third acre garden grows, flush with late season eggplant, tomatoes, peppers and garlic. Yearly, 3,000 pounds of produce is harvested, going into a teaching kitchen for children to learn the finer points of healthy food preparation, table manners, and teamwork. Large windows of the kitchen overlook the garden to reinforce where the bounty comes from. Chef April Neujean leads cooking classes at Samuel J. Green Charter School and is a part of Chefs Move to Schools. As part the First Lady's Let's Move! initiative, Chefs Move to Schools pairs chefs with participating schools nearby in an effort to help educate kids about food and show how fun cooking nutritious food can be. Chef April lets the kids touch and smell the food before working on the day's dish. Teams of students chop and cook the meal—a great example of chefs and schools working together!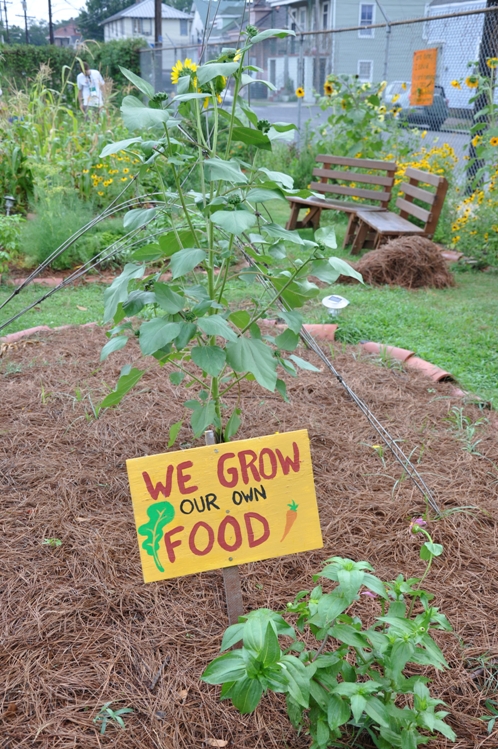 The grounds of Samuel J. Green Charter are not your typical schoolyard. They hold a one-third acre garden, flush with produce that is used to teach children about food from seed to fork.
The healthy living extends beyond the garden and the cooking class: the kids also get healthy meals every day via USDA's National School Lunch and Breakfast programs. To solidify community ties, every other month the school hosts an open garden day, where the neighborhood is invited to stop by for tips on gardening or harvest. In off months, youth leadership program participants learn small business skills by selling the produce at a nearby farmers market.
And this vision has paid off: student performance has improved greatly, moving the school from one of the city's worst performing to one-star status. Edible Schoolyard New Orleans has just signed on to support Let's Move Faith and Communities, part of the First Lady Michelle Obama's initiative to encourage healthy lifestyles and end childhood obesity within a generation.