Our Nation's Warriors
On May 9th, 2011, I joined fellow members of the President's Council on Fitness, Sports and Nutrition on the South Lawn of the White House. We had the opportunity to participate in and lead exercise stations with military families on a beautiful spring day in Washington. These military families, and the many others across the country, need as much support as possible as they sacrifice to protect our country. At the event, First Lady Michelle Obama announced that Council members had each committed to participating in at least two events this year as part of the Council's support of Joining Forces, the national initiative launched by the First Lady and Dr. Jill Biden to honor and support service members and their families.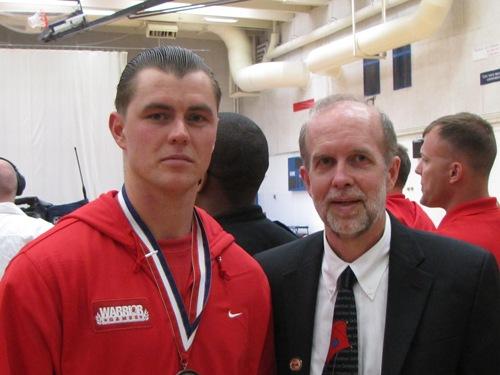 Marine Sergeant Stephen Lunt after receiving a bronze medal in archery with Council member, Dr. Stephen McDonough.
Many of the veterans I met had more than one leg amputated and were competing in basketball, archery and marksmanship. Others were recovering from burns and one person competed in cycling, 50m and 10m freestyle, and 50m backstroke events despite being blind. Their courage is astounding and inspirational.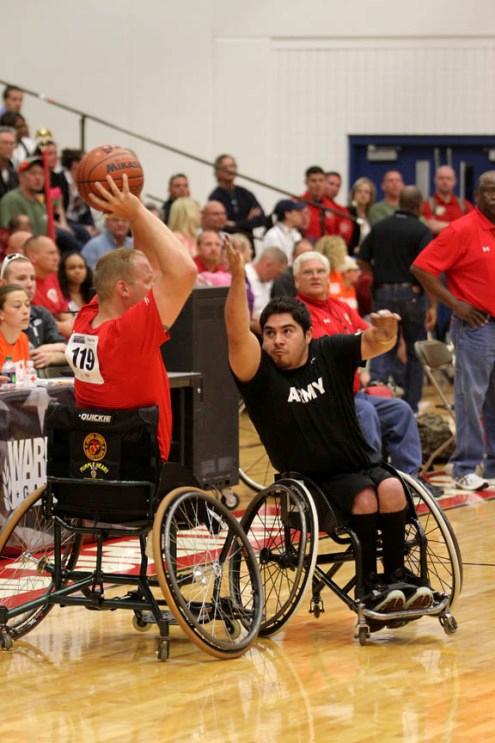 Travis Greene of the Marines attempts to pass the ball while being defended by Juan Soto of the Army team. (Photo by Tom Kimmell)
I attended the archery and marksmanship competitions, as well as wheelchair basketball, and I was incredibly moved to see such excellent effort and attitude despite the participants' devastating injuries. I had the privilege of participating in the awards ceremony and had the opportunity to personally thank our military men and women for their service to our country.
I also had the pleasure of meeting many high ranking military officials while at the Games. The Commandant of the Marine Corps, General James F. Amos; the executive officer of the Quantico Marine Corps Base and the Commanding Officer of the San Antonio Military Medical Center Brigadier General Joseph Caravalho, shared with me on how important the Warrior Games are to the military and their families, especially those injured- heroes to our heroes.
I look forward to attending the Warrior Games again in the future. I will never forget the courage of the Wounded Warriors who have overcome so much so that each one of us can continue to receive the freedoms we enjoy daily in our great nation.