Kids Move Outside and Experience Fishing on Lake Bastrop
Last Saturday morning, the sun shone brightly over Lake Bastrop near Austin, Texas, where 28 kids and 14 boat captains joined hundreds of volunteers to experience the joys of fishing at the Bureau of Reclamation's 8th Annual Catch A Special Thrill event.
Department of the Interior (DOI) Assistant Secretary Anne Castle and Reclamation's Oklahoma-Texas Area Manager Mark Treviño also joined in on the fun. Once the kids were finished fishing, all participants, their families and the volunteers gathered for a healthy lunch provided by various local sponsors.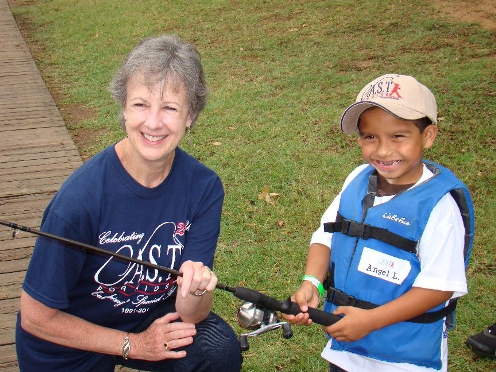 Assistant Secretary Anne Castle enjoys a moment with a young fisherman at Lake Bastrop.
After lunch, the kids were presented with mementos of their outing, a plaque with photo of them with their captain on the lake.
This summer, DOI's Bureau of Reclamation and the Catch A Special Thrill Foundation (C.A.S.T) have come together to host 20 Let's Move Outside! events to encourage youth and families to make healthy, outdoor activity a part of their daily routines. At each event, disabled children and families are paired with CAST "captains" who teach them how to fish. Skills that they can take home. Fishing is gateway activity.
"Let's Move Outside is a wonderful program and fishing for the day is just one of the ways that people can get outside and enjoy the outdoors," said Castle. "It's easy for anyone to get out and enjoy the outdoors by playing at a local park, walking in your neighborhood, or playing tag with the family."
"The boat captains unselfishly donate their time and their boats, which is no small feat in these times of increased fuel costs," said Treviño. "The experience for the kids would not be the same if they couldn't get out on the water."
The kids and their families also met with representatives of the Lower Colorado River Authority's McKinney Roughs Nature Center. They were introduced to some of the reptiles and animals that live in the area, some they might see if they go on a hike with their families. Teaching them how to appreciate and take care of the natural world around them.
Interior's Bureau of Reclamation, the Lower Colorado River Authority and the Bluebonnet Electric Cooperative partnered with corporate sponsors Wal-Mart, Cabelas, Aqua Water Supply and a host of local merchants to support this event. The sponsors provide all the equipment the kids will need to catch that first fish along with nutritious snacks and lunch.
"The greatest thing about these events is the kids," added Castle. "You can't beat a Saturday morning getting outside and seeing them experience nature first hand."
To learn more about C.A.S.T and events in your area, please visit the Catch a Special Thrill for Kids Foundation at www.castforkids.org.