Announcing Let's Move! Museums and Gardens
The space shuttle wasn't the only launch in Houston last week! At a meeting with thousands of museum professionals I had the great honor of joining First Lady Michelle Obama as we launched Let's Move! Museums and Gardens.
Speaking via video message to attendees of the Association of Children's Museums and American Association of Museums Annual Meetings, Mrs. Obama said, "Everyday, in museums, public gardens, zoos, and so many other places, you expose our children to new ideas and inspire them to stretch their imaginations. You teach them new skills and new ways of thinking. And you instill a love of learning that will stay with them for the rest of their lives. Every day, you all make such a difference in the lives of our children. And that's why I'm so excited to work with you on an issue that is so critical to their health and well-being."
The national initiative, coordinated by the Institute of Museum and Library Services, will provide opportunities for millions of museum and garden visitors to learn about healthy food choices and physical activity through interactive exhibits and programs.
Museums and gardens are eager to do their part in making a difference. Many of them have core missions that focus on creating healthy environments for children and their families.
Let's Move! Museums & Gardens will focus on interactive exhibits, afterschool, summer programming and food service that help young people to make healthy food choices and be physically active.
A few examples of how museums and gardens are already moving include:
The Children's Museum of Manhattan (CMOM) (NY), in collaboration with the National Institutes of Health (NIH), launched a national obesity prevention program called "Eat Sleep Play." The fun, arts based early childhood approach adapts the NIH's "We Can!" curriculum for families with young children. The programs, piloted in the south Bronx and New Orleans, have demonstrated positive behavior trends, as demonstrated by ongoing research.
The Sojourner Truth Multicultural Art Museum (Sacramento, CA) runs "Hip Hop to Wellness," a Kaiser-sponsored program that addresses childhood obesity by involving the family in making healthy changes in diet and encouraging physical activities through programs such as the Oak Park Kids Run and hip-hop, African dance and salsa workshops.
Phipps Conservatory and Botanical Gardens (Pittsburgh, PA) is committed to promoting healthy living for children through its educational programs and Green Certified café. The organization's programs enlighten young minds about healthy food choices and the sources of their food. Nutritious snacks are provided to school groups, and summer camps offer opportunities for kids to grow their own food to eat from the garden.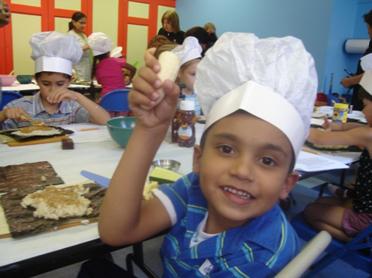 Child participating in Children's Museum of Manhattan workshop.
Museums and gardens have great collective power to reach children and their families with important health messages. There are more than 17,500 museums and gardens in the United States and they reach an estimated 850 million people each year.
Museums and gardens that wish to become a Let's Move! Museum or a Let's Move! Garden are encouraged to visit www.imls.gov/letsmove.