Let's Move!: Federal Employees Help Students Gear Up for Fitness
Cross-posted from the U.S. Department of Education blog.
While Friday the 13th is generally believed to be a day of perpetual bad luck, for the more than 200 students at Charles H. Houston Elementary in Washington, DC, last Friday was anything but unlucky, as students grooved to Kenny Loggins' Footloose and recognized the winners of the "Why Fitness is Important" essay contest who each received a free pedometer, jump rope, two bottles of water, and new athletic shoes.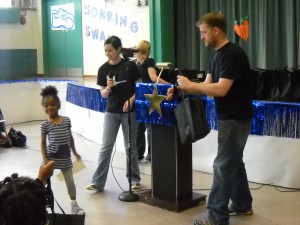 The students were gathered as part of a new community-based initiative to fight childhood obesity called Foot Lose. The initiative is the creation of an enthusiastic group of federal agency professionals known as "The Soaring Swans," who are enrolled in the Executive Leadership Program at the Graduate School in Washington, DC. Through the Foot Lose campaign, federal employees in the Executive Leadership Program are asked to donate new athletic shoes and to encourage children to lose unhealthy habits that lead to childhood obesity. The initiative also supports the President's Challenge and First Lady Michelle Obama's Let's Move! campaign by helping to solve the problem of obesity within a generation.
To determine a pool of eligible students for Foot Lose, "The Soaring Swans" and Houston Elementary educators held a "Why Fitness is Important" essay contest about the importance of fitness. A total of 25 essays and, from preschoolers, 20 posters were submitted. Each child who submitted an entry was matched with a sponsor in the Executive Leadership Program, who provided the new shoes. "The Soaring Swans" donated the other fitness gear for the winners of the essay contest.

The Foot Lose event at Houston Elementary was a culmination of the students' hard work and included a workout and a recognition ceremony for the students who submitted essays and artwork. Following the workout, the students received their new shoes and equipment, as well as a Let's Move! action plan.
For more information on how you can take action, visit letsmove.gov/action.