The Competition Gets Prickly as Judges Head to Minnesota
I can't tell you if there are 10,000 lakes in Minnesota, but I can tell you that there is one creative group of students, the South Education Center Alternative (SECA) in Richfield, Minn. Richfield was the next stop in the First Lady's Recipes for Healthy Kids competition judging round. We were eagerly anticipating the visit to SECA because their entry in the whole grains category, Porcupine Sliders, definitely caught our attention with their prickly title.
SECA students Adilene, Chris, Dominic, and Dolores look like they are paving a culinary future for themselves with this hit recipe. Along with chef Todd Bolten, teacher Theresa Guthrie, and public health nurse Mary Lair, the students developed the Porcupine Sliders recipe, one of 15 semi-finalists.
SECA is a credit based academic and work experience program serving high school students from the 13 member school districts of Intermediate 287 and emphasizes the importance of helping students build confidence in their abilities. Well the students at SECA should have no doubt when it comes to their skills at the grills. Their culinary creativity sets this recipe apart from more than 340 entries.
So what exactly is a Porcupine Slider? Meant to be served as an entrée, this healthy mouth watering turkey burger is high in protein with just the right amount of spices and a kick of sweet cranberries. All served on whole wheat or whole grain buns. It is delicious and nutritious and an appetizing new way to get kids to eat healthy. The simple ingredients and easy preparation means that schools can add this to their National School Lunch Program menus.
So how did the Porcupine Sliders make it from fridge to fork? Well the students put their heads together in the school kitchen mixing and matching the ingredients to find that perfect blend. The next day the school's food service professionals made the sliders and the team served them to their classmates that ate school lunch that day. After surveying the lunch room, the team received the positive feedback they needed to enter the competition for the big win.
All semi-finalist recipes are currently posted on the Recipes for Healthy Kids website, and the public may vote for the "Popular Choice" award until May 31. Prizes range from $1,000 to a grand prize of $3,000. To vote with your fork, go to the Recipes for Healthy Kids website.
So slide on over to the website and test the recipe below with your family or with your classmates and best of luck to the team at the South Education Center Alternative.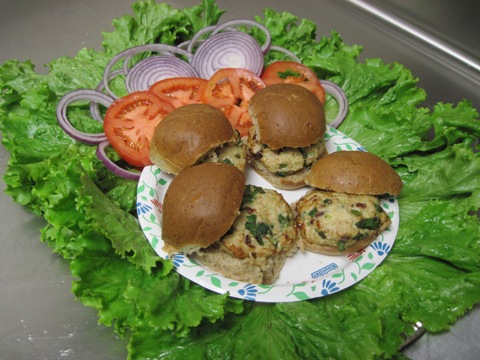 Porcupine Sliders Recipe
Ingredients:
1/3 cup of brown rice, medium-grain, raw

1 whole grain roll

1.875 cup of ground turkey, extra lean

1 large egg, whole, fresh, pasteurized

1 medium stalk of celery, raw, finely chopped

1.5 tablespoons of cranberries, dried, sweetened

1 clove of garlic, raw

1.5 tablespoon of onions, yellow, sauteed

3/4 cup of spinach, raw

3/4 teaspoon of canola oil

3/4 teaspoon of Worcestershire sauce

3/8 teaspoon of salt

1/2 teaspoon of black pepper

1 pinch of red pepper
To see the tricks of the trade in pulling this recipe together and to cast your vote in the Recipe for Health Kids competition, click here. Next up – a double header as we bring you the delicious details from Kettering City School District in Kettering, Ohio and the Joshua Cowell Elementary School in Manteca, Calif.
Love this recipe? Try: