"Moving" with Dominique Dawes and Boys & Girls Clubs
May is National Physical Fitness and Sports Month, and is the perfect time to celebrate how Let's Move! and the Million PALA (Presidential Active Lifestyle Award) Challenge are helping Americans get healthy and fit. Through the Million PALA Challenge, an extension of the President's Challenge, The President's Council on Sports, Fitness and Nutrition set a goal for 1 million Americans to earn a PALA by September 2011.
Everyday kids and adults are signing up at www.millionpalachallenge.org to take on the President's Challenge to get physically active. I invite you to participate and to celebrate with me a record-breaking fitness challenge in which I was lucky enough to participate!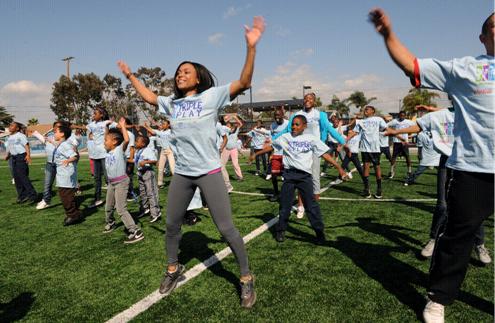 Dominique Dawes, as well as kids from the Boys & Girls Club of America, participate in a record-breaking Jumping Jacks session.
I recently joined the Boys & Girls Clubs of America (BGCA), a President's Challenge Advocate, and its Clubs across the country to promote kids being active and healthy in a big way – by attempting to break a Guinness World Record. The record was for the most people doing Jumping Jacks (or Star Jumps) simultaneously. Jumping jacks are called starjumps in some countries because the arms, legs and head form a five-pointed star.
The record is defined as, "the most people star jumping simultaneously at multiple venues for two consecutive minutes," according to Guinness World Records. To break the current record, more than 278 kids needed to complete the attempt. While the official results will come from Guinness in a few weeks, I think it's safe to assume that with almost 20,000 kids taking part, the record has already been broken!
BGCA's Triple Play program organized this record-smashing event in order to bring attention to the importance of kids living healthy, active lifestyles and how Boys & Girls Clubs help promote this every day. This program, supported by founding sponsor, Coca-Cola, and the WellPoint Foundation, encourages kids to eat healthier, become more physically active and increase their ability to engage in healthy relationships.
With nearly one-third of kids in the U.S. qualifying as obese or overweight, having a goal to be physically active every day is very important for kids, and it can be achieved through activities as simple as doing jumping jacks. Being active puts kids on a pathway to a great future.
We at the President's Council on Sports, Fitness and Nutrition are so proud of the nationwide turnout for the record-breaking attempt. No one needs fancy equipment, specific clothing or a gym membership to get out and exercise. Some good old-fashioned jumping jacks can do it!
Triple Play: A Game Plan for the Mind, Body and Soul was launched in 2005 by BGCA in collaboration with the Department of Health and Human Services. A two-year study of more than 2,000 children ages 9-14 showed that Triple Play succeeded in getting them to exercise more, eat healthier foods and feel better about themselves. The study found that Triple Play kids increased to 90 percent of the federally recommended amount of daily exercise, which is 60 minutes a day for children, while their peers outside the program decreased to 78 percent. To date, Triple Play has helped more than one million kids learn the importance of physical activity and proper nutrition. Learn more about theprogram at www.bgca.org/tripleplay.