Interactive Web Tool Maps Food Deserts, Provides Key Data
Ensuring that Americans eat well and lead healthy lives is among our greatest goals at USDA. First Lady Michelle Obama, of course, has taken an important role on this front – leading a national conversation and administration-wide effort. As part of the Lets Move! initiative USDA is taking on the challenge of food deserts. These nutritional wastelands exist across America in both urban and rural communities where parents and children simply do not have access to a supermarket.
Even with knowledge of good nutrition and the best of intentions, some people who live in "food desert" neighborhoods may have a difficult time accessing affordable and nutritious food because they live far from a supermarket and do not have easy access to transportation.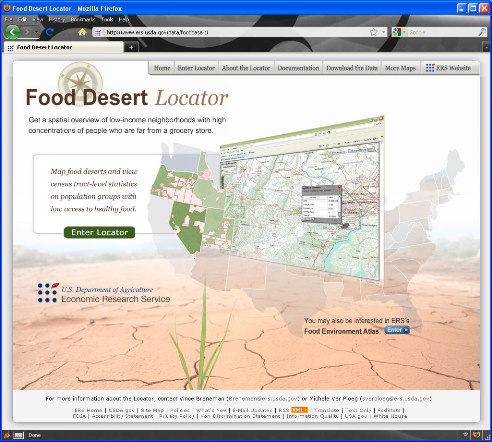 Home page of mapping tool, Food Desert Locator
A new interactive tool launched by USDA allows users to locate food deserts. In the Food Desert Locator developed by USDA's Economic Research Service, a food desert census tract is defined as a low-income tract where a substantial number or substantial share of residents does not have easy access to a supermarket or large grocery store.
The Locator identifies about 10 percent of the approximately 65,000 census tracts in the United States as food deserts. About 13.5 million people in these census tracts have low access to sources of healthful food.
For each food desert tract, Locator users can view and download population statistics–e.g., percentage and number of people in the tract with low access to large grocery outlets, percentage and number of people who are low income and also have low access, or number of low-access households without a car.
Users can also view a map of the United States that identifies and highlights food desert census tracts. They can zoom in to view census tracts in a county or city, or use the search feature to find a specific location by address or tract number to find out if it qualifies as a food desert. Users can also create maps showing the food desert census tracts in selected areas.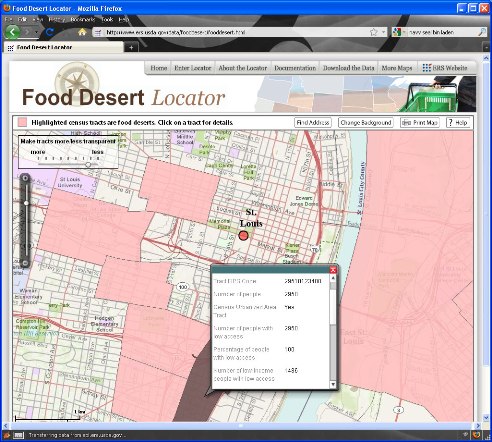 Map in the ERS Food Desert Locator showing the location of food deserts in downtown St. Louis
Who might find this new mapping tool useful? Policy makers, urban planners, and local community organizations seeking options to address the problem of food deserts can use the Locator to identify areas most in need. The downloadable data on food deserts may be particularly useful for health and nutrition researchers.
There are currently nineteen programs from the Departments of Treasury, Health and Human Services and Agriculture available to support the development of sustainable projects and strategies to increase access to healthy, affordable foods and eliminate food deserts.
Many types of organizations are eligible for assistance including businesses, local governments, non-profit organizations and more. We know that the federal government cannot tackle the problem of food deserts alone and we encourage those who are interested to form partnerships and develop sustainable projects and strategies in their communities.
In the meantime, I encourage you to check out the Food Desert Locator.