Walk friendly communities offer residents a gas-saving, healthy alternative
In this time of high gas prices, it's important that we give Americans options for getting where they need to go. One way to do that is by fostering livable communities where people can choose to leave their cars behind and safely walk where they need to go.
To encourage communities to make walking safer, the Pedestrian and Bicycle Information Center (PBIC) introduced its Walk Friendly Communities program. And yesterday, with support from the Federal Highway Administration and FedEx, the PBIC recognized the first 11 cities to earn that designation for improving walkability and pedestrian safety.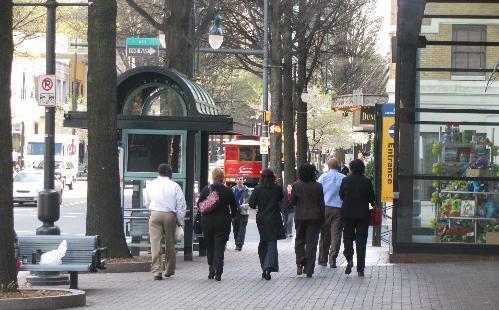 People walk in Charlotte, NC, a bronze level Walk Friendly Community
The Obama Administration believes it's important to recognize cities for creating an environment that helps cut down on fuel costs for working families. Supporting community efforts to offer residents the transportation options they seek is a terrific way to ensure these efforts continue.
When you're walking instead of driving, you're not just saving money on gas today. You're adopting a lifestyle that can save you money and improve your health throughout your life.
And when families have a safe option for staying active, that helps us meet First Lady Michelle Obama's goal of reducing childhood obesity.

Congratulations to the 11 communities recognized by the PBIC. I know your residents are benefiting from your efforts to improve walkability and safety.
Now, for those who want their own communities to develop similar efforts, the Walk Friendly Communities website offers a great tool for evaluating walkability and pedestrian safety. The online survey includes questions about your community's efforts in engineering, education, encouragement, enforcement, evaluation, and planning.
The next round of applications will be open from May 1 through June 15, 2011. Will your city be the next to be recognized?