Pathway to Better Health: One Step at a Time
Standing at the finish line at Monday's 115th Boston Marathon, I marveled at the determination, dedication and sheer grit each runner possessed. One by one I greeted the 43 members of my team as they arrived at the finish on Boylston Street. Huge smiles and expressions of relief adorned their faces as they reached the line, as the sense of accomplishment finally started to set in and the goal of completing 26.2 miles became a reality. The exhilarating energy here on race day reminds me of some of the best games of my football career.
At thirty-one years old, I suffered a stroke that could have ended my career as a linebacker for the New England Patriots. It is a day that I will never forget, and the road to recovery was one of hard work, persistence, and at times, frustration. However, I must say that I was one step ahead of many stroke survivors due to my fitness level prior to the stroke. Had I not been in shape, my cardiologist shared that I may not have been able to regain full functionality and return to the field. Never again will I take my health for granted, and that is why I started Tedy's Team.
The team consists of a group of runners looking to honor both survivors and loved ones lost to stroke, which remains the 3rd leading cause of death in America. Tedy's Team runs in both the Boston Marathon and the Falmouth Road Race to raise awareness and support stroke research. During Boston's winter months, they put in grueling training as early as 5 a.m. in rain, sleet and snow. Part of what makes them so successful is that they train together. By doing so, they hold each other accountable while motivating each other to continue the pursuit of this extraordinary goal.
As a member of the President's Council on Fitness, Sports and Nutrition I promote awareness of the importance of staying healthy and active, which is a critical part of disease prevention and overall health. I am proud to say that during the last six weeks of their training Tedy's Team members all earned their Presidential Active Lifestyle Award, or "PALA". PALA can be achieved by taking part in 30 minutes of physical activity per day for adults (60 minutes for kids), 5 days a week for 6 weeks.
After retiring from the NFL, I have taken up various physical activities such as hiking to stay healthy. I will be climbing Mt. Kilimanjaro in May. I now get the most support from my favorite team, my family. Families who play together stay fit together. I am a father of three very active boys and just chasing them around takes a lot of physical activity! You don't have to run a marathon or be a professional athlete to be active. If you are a parent, lead by example and find a way to get active with your kids, like taking walks or riding bikes.
The PALA program is a great starting point to begin adding physical activity into your lifestyle, or a motivation to continue. You can do it on your own or start a team like Tedy's Team, and sign up as a group to support each other. Once it's completed, you even get a certificate from the President's Council! Create a healthier future for yourself and your family by visiting www.millionpalachallenge.org to begin logging your activity online, or download a paper log to get started today!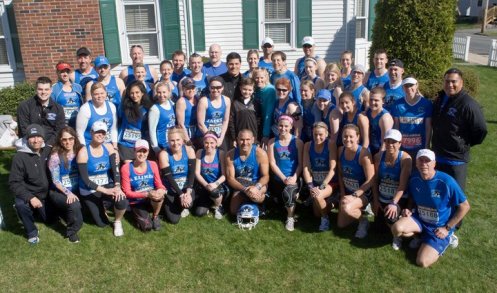 Tedy's Team runs to raise awareness, honor loved ones lost to stroke, and support stroke research.