Ohio Kids Use Video Game System for Indoor Physical Activity
Let's Move! has arrived in Oakwood Village, Ohio, and the town's Youth Council is excited about joining First Lady Michelle Obama in fighting childhood obesity.
The Oakwood Village Youth Council (OYC) hosted its first Let's Move! event on April 2, 2011 for children of Oakwood Village and surrounding communities. Want to take a guess at the type of event? A video game tournament, but not of the sitting down type, the OYC held a tournament using the Nintendo Wii and the game "Michael Jackson: The Experience," a popular interactive dancing game.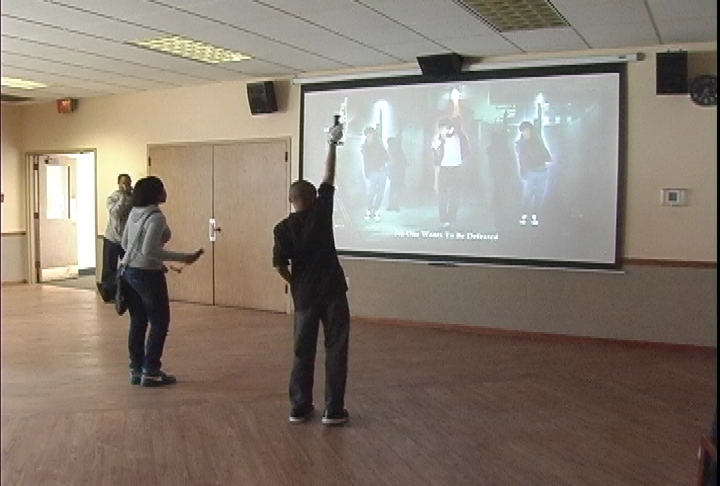 Our finals featured two kids playing head-to-head on a big screen while everyone in attendance watched.
The Wii Tournament was a fun way for the OYC to encourage local youth from ages 5-17, to get off the couch and move through dancing. Children in attendance worked up a sweat to match the King of Pop's spins, twists, and moonwalks!
Michael Jackson favorites such as "Rock with You," "Black or White," and "Bad" were used in the competition. As for the final phase of the tournament, the all time favorite "Thriller" song was used. The winner received an iPod Shuffle and an "iTunes"gift card.
As the children worked up a sweat and competed in the dance competition, refreshments were served such as carrots, broccoli, and celery. A fresh bowl of fruit was provided along with water and a variety of fruit juices.Deli sandwiches and baked chips were also on the menu.
In Oakwood Village, Ohio, it snows often and cold weather can last for weeks (they informed me that even the month of May is not exempt from snow storms). So, on days when the weather is too bad for the children to engage in physical activity outdoors, we hope moving forward that they will remember that there are ways to achieve 60 minutes of physical activity while indoors.
Childhood obesity is a national issue that affects every community in our country. We hope that Young Americans across the country continue engage this very important issue, by getting their local communities involved in the Let's Move! Initiative. I want to applaud the Oakwood Village Youth Council for their creativity and engagement of Let's Move! Because of it, their local youth were exercised through dance, ate healthy food, had lots of fun, and witnessed firsthand that physical activity can be enjoyed no matter the weather.