Lacrosse, "The Medicine Game," Creates Physical Activities Opportunity for Urban Native Youth
On March 12th, I joined a group of families and members of Native American Lifelines, an urban Indian community center in Baltimore, for the Konica-Minolta Face-Off Classic at M&T Bank Stadium. Kerry Lessard, the Health and Cultural Consultant for the center, was inspired by Let's Move! and wanted to get the youth active through the sport of lacrosse, which has cultural significance in many Indian communities.
Opportunities for healthy, safe, and affordable family activities can be incredibly challenging for the community center's members to find; and some of the greatest struggles for Native urban youth are obesity-related health issues and feeling a lack of cultural identity.
For centuries, lacrosse has been known to American Indians as the "Medicine Game." Today, the sport can help develop a healthy and strong generation; especially for youth in Indian Country. As reported in the Childhood Obesity Report to the President, the obesity epidemic is affecting Native American children at higher levels than any other racial or ethnic group; and physical activities, like lacrosse, are one of the key components of the First Lady's Let's Move! initiative.
The day was planned as a way to introduce the boys from Native Lifelines to the sport. As we walked to our seats to watch Syracuse take on Georgetown, Kerry made sure we stopped to show them artwork depicting American Indians with lacrosse sticks.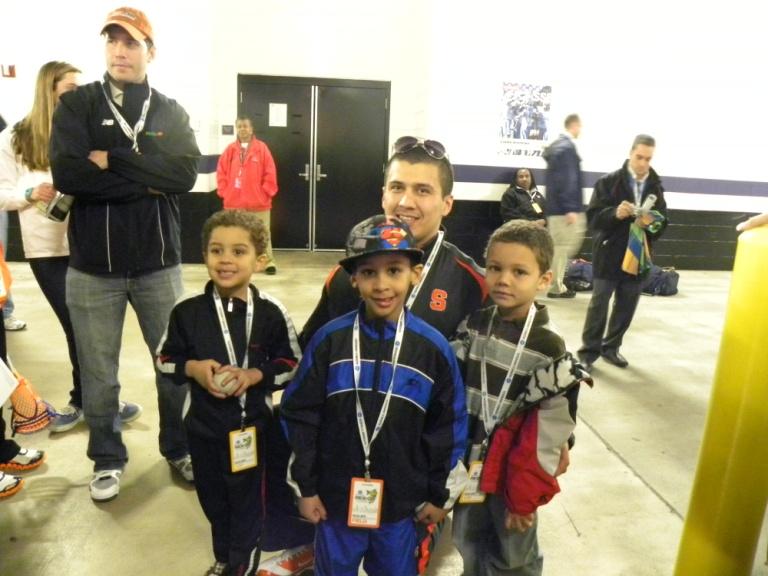 Jeremy Thompson with some of the boys who attended the games with Native American Lifelines
The boys' attentions were kept throughout the game, and they were extremely excited at the thought of playing lacrosse this spring. Charm City Youth Lacrosse, a nonprofit organization that provides underserved urban youth with free equipment, transportation, and instruction, has created the opportunity for the boys from Native Lifelines to play their "new favorite sport." Kerry was confident that word would spread quickly, and we would soon see a group of Native Lifelines kids playing lacrosse in Baltimore!
The highlight of the day came when the group was able to meet Jeremy Thompson after the game, who is a member of the Onondaga Nation of New York, and one of the best Lacrosse players in the country. He is a fantastic role model for the boys, encouraging them to "use the gifts the Creator gave" them, as well as stay close to their language and culture as Indian people, while always being healthy and active. Kerry, the Health and Cultural Consultant for Native American Lifelines, said that this powerful message was a better take-away than any of the many items Jeremy autographed for the boys.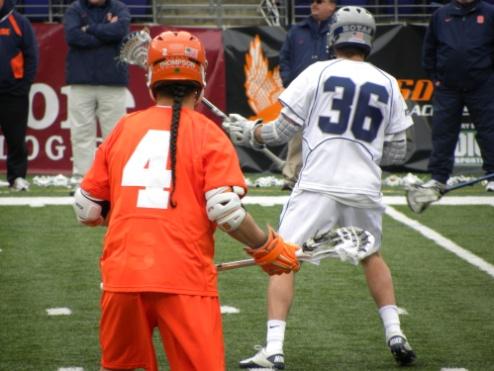 Lacrosse players from Syracuse University and Georgetown University during the Konica-Minolta Face-Off Classic
Recently MetroLacrosse, a non-profit organization similar to Charm City Lacrosse, held its first Urban Lacrosse Summit, to bring together existing urban lacrosse programs and people interested in starting their own, from all around the country. We are working to link more Urban Indian Centers to these programs. If you are interested in volunteering for such a program, or a parent or guardian of a child living in an urban environment who is interested in playing the game, please visit MetroLacrosse's website to find a program nearest you.