School Garden Concept Plan Revealed to Students at Powell Elementary School
Last month USDA facilitated a school garden design session and since that time, landscape architects Matt Arnn and Bob Snieckus have been working hard to incorporate parent, teacher and student ideas into an ideal plan that would transform the large expanse of asphalt at Powell Elementary School in Washington, DC into a People's Garden.
Older students envisioned racecars, tree houses, spaceships and swimming pools at their school while younger students imagined rainbows and butterflies. Parents and teachers drew images of colorful flowers, fruits and vegetables, and quiet spaces for reflection and relaxation. Many of the garden designs incorporated an area for basketball and street hockey as well as covered areas to gather for meals and cultural celebrations.
Plant selections ranged from tropical fruits like papaya, banana and pineapple to more regionally appropriate crops like greens, corn, strawberries, tomatoes, and carrots. Second graders surveyed their classmates and created a tally chart showing plants Powell students wanted to see in the garden. Watermelon was the clear winner.
Last week, USDA and our partners – the Washington Capitals – revealed the concept plan, which is based on images and ideas from the design session, to 289 students and their teachers at a school assembly. Alan May, Comcast SportsNet analyst and a former player for the Capitals, led the students in a high energy countdown 10-9-8-7-6-5-4-3-2-1 and then Mike Green, Defensemen Number 52, pulled back the red velvet curtain on the auditorium stage to reveal the plan.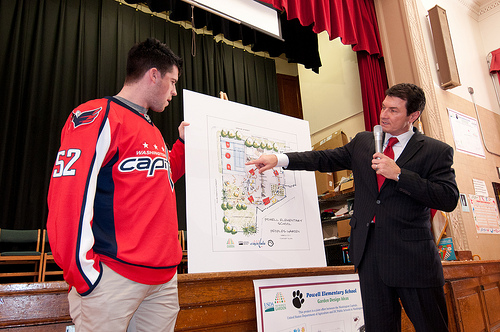 The landscape architects then took the stage to present the design. Arnn asked students to pretend they were birds and to image that they were looking down on their school from the sky when looking at the plan. This was a successful way to explain "bird's eye view" to young children. He later asked students if they wanted a stage outside just like the one he stood on and the crowd erupted in cheers. Snieckus went through the plan, area by area, explaining how their drawings had inspired each element – the activity zone area would be multicolored like a rainbow; the habitat garden would include bird houses; the multipurpose courts would include basketball and street hockey; and in the food garden watermelon would grow. The design includes crevice, habitat and food gardens, activity zones for physical activity and nature discovery, and a playhouse and stage for imaginative play. The concept plan also incorporates a tool shed, water pump, compost area and rain barrels.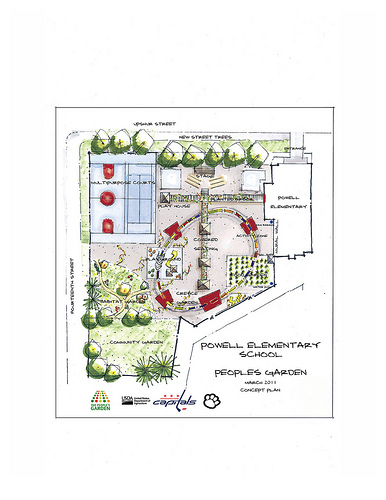 Then Green told students that they were welcome to call him anytime for a game of street hockey (once the new court was built) jumping up and down followed. It's clear his involvement is inspiring students to be active. Less than 24 hours after the school garden reveal he visited the White House with third and fourth graders from Powell to team up with Let's Move! and the First Lady for a street hockey clinic. This exciting new collaboration between Let's Move!, the National Hockey League and USA Hockey will encourage American children to lead active and healthy lives.
USDA and the Caps are committed to making Powell a healthier place for students to learn and play. Green said it best when he expressed how grateful he was to be a part of this garden project, congratulated the students for their hard work and expressed his desire for schools across the country to make similar commitments.
The next step is for teachers and administrators to provide feedback about the design. PG team members, the Caps and the school community will continue to work together over the next few weeks. We plan to start building a People's Garden at Powell ES in late spring.
You can view photos from the school garden design reveal on Flickr or read more about the event at Caps Care. Receive regular updates about this projects progress by following us on Twitter.  Are you growing a People's Garden in your community? Register your garden with us so your efforts can be recognized along with others across the Nation.