Chef Inspired, Kid Approved
I had the distinct pleasure to join the White House Assistant Chef and Senior Policy Advisor for Healthy Food Initiative Sam Kass, to participate in a unique Chefs Move to Schools event at Edgewater High School Auditorium, Orlando, Fla., in celebration of First Lady Michelle Obama's Let's Move! initiative.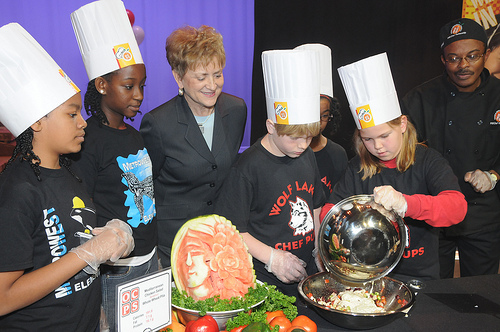 Also there were nationally-renowned chefs from well-known Orlando resorts and theme parks such as Disney World and Universal Studios, as well as chefs and schools participating in Orange County Public School (OCPS) District Chefs Move to Schools program.
These chefs, school food nutrition managers, and students from ten schools put on quite a show as they cooked new, healthy "chef inspired, kid approved" recipes they developed together.  With all the right utensils, chef hats, the pressure of time, the tantalizing aromas, the smoke machine and the loud music, they impressed the audience who came to watch and later taste the healthy samples they whipped up.
A few of the new OCPS recipes unveiled were: fish tacos with tilapia, shredded carrots, red and green cabbage, bok choy and avocado in a whole grain tortilla; taboule chicken salad with tomato, cucumber, couscous, feta cheese, lemon juice and olive oil in a whole grain pita pocket; and a fruit roll with cantaloupe, melon, strawberries, and pineapple rolled in rice paper.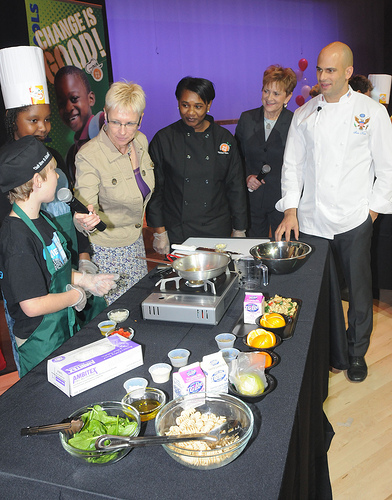 "These kids are so creative and come up with recipes with foods you wouldn't think would go together but they do and they're good," said Karen Rich, Bridgewater Middle School Food and Nutrition Manager.  I thought so too.
Six of the new recipes that were cooked at the event were also submitted to the Recipes for Healthy Kids Competition, which provides another opportunity for chefs to work with students to enhance the school food environment.  Joshua Turek, Executive Chef for the Young Chefs Academy of Orlando (who partnered with Bridgewater Middle School in Orlando) said it best: "This has been an incredible experience for me. It's not just about cooking but it's about combining  nutrition education with healthy food and about showing these kids why it's important to make healthy choices and how they can do it themselves."