Celebrating the Let's Move! Anniversary with Yoga and Cheers
What began as a peaceful Lets Move! one-year anniversary celebration at Namaste School, with daily yoga, soon changed to energetic cheers and jumps, as Benny the Bull, mascot of NBA's Chicago Bulls, and USDA's Power Panther, led 2nd-7th graders in chants and exercises, as the School received the HealthierUS School Challenge's Gold of Distinction award.  Namaste is the 2nd in IL and in the Midwest to receive this prestigious USDA award for creating a healthy school environment through promotion of nutrition and physical activity.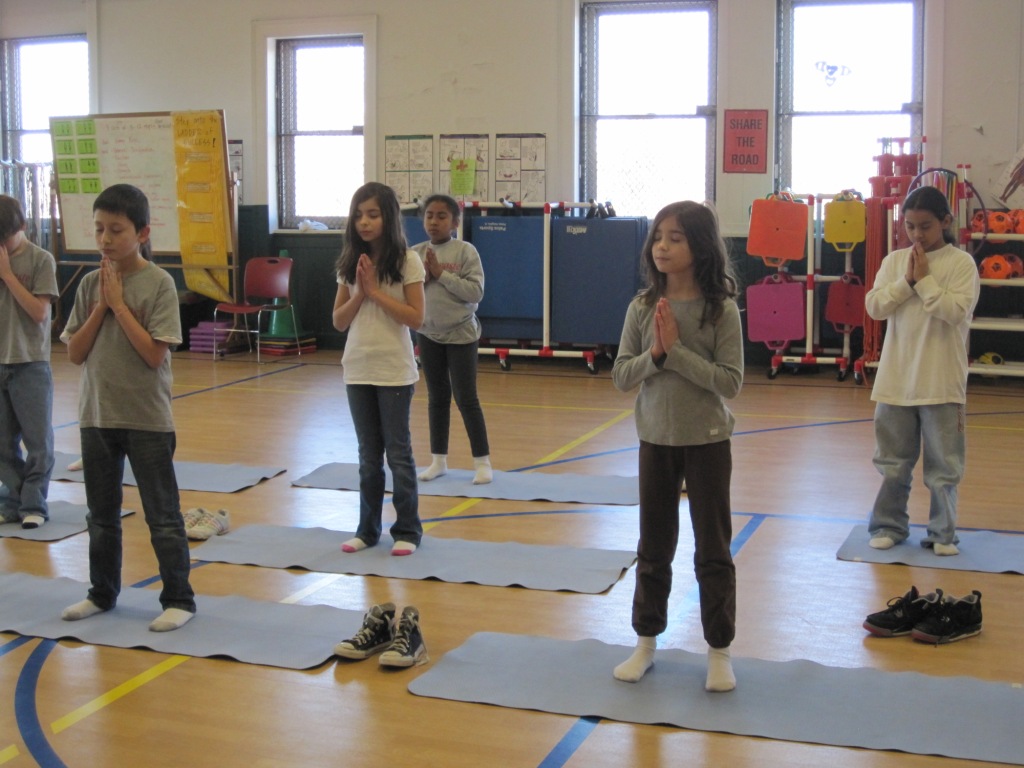 VH1 Medical Expert Dr. Ian Smith, member of the President's Council on Fitness, Sports and Nutrition, highlighted the importance of a balanced, nutritional diet, and physical activity, telling children to do their best.  Dr. Smith also encouraged children and parents to sign up for the Council's Presidential Active Lifestyle Award (PALA) for being active on a regular basis.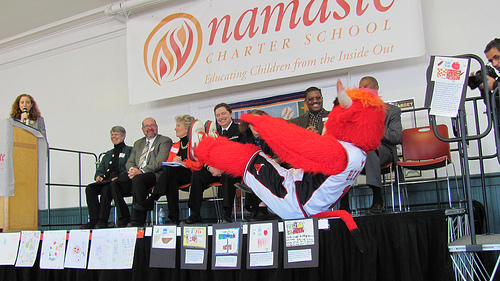 During the celebration, three students read their letter to Mrs. Obama on what Lets Move! has done for them over the past year, highlighting how much they loved the school with daily gym, recess, and healthy meals.  One 4th grader said the world would be a better place if everyone could be fit, healthy and peaceful, like the Namaste students.  All students' letters were then presented to USDA Food and Nutrition Service Administrator Julie Paradis for delivery to Mrs. Obama.  Following the celebration, children looked forward to their nutritious school lunch of vegetarian or chicken jambalaya, butternut squash, salad, fruit and milk.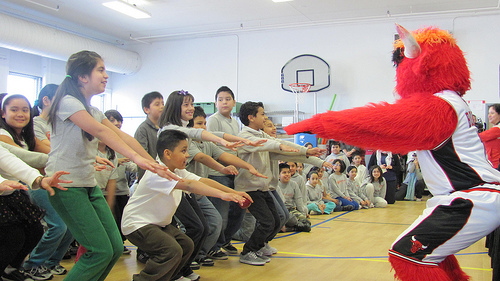 As representative for the nation's health agency and doctor, I was honored to observe first-hand the difference that Lets Move! has made in the lives of these children and their parents.  Clearly, Namaste children and families have enthusiastically embraced the healthy lifestyle espoused by Namaste, leading peaceful, active, and healthy lives.  At this one-year Lets Move! anniversary mark, we have much to celebrate and much to share to ensure that our children have a bright and healthy future.