City of Orlando hosts a Day-Long Let's Move! Celebration
Last Tuesday the City of Orlando celebrated the anniversary of First Lady Michelle Obama's Let's Move! Campaign with an incredible day full of events that was an unqualified success from all perspectives.
The day began with a gathering at city hall hosted by Orlando Mayor Buddy Dyer, where HHS Regional Health Administrator RADM Clara Cobb set the stage for the event by sharing the history of Let's Move and how it directly related to children's health.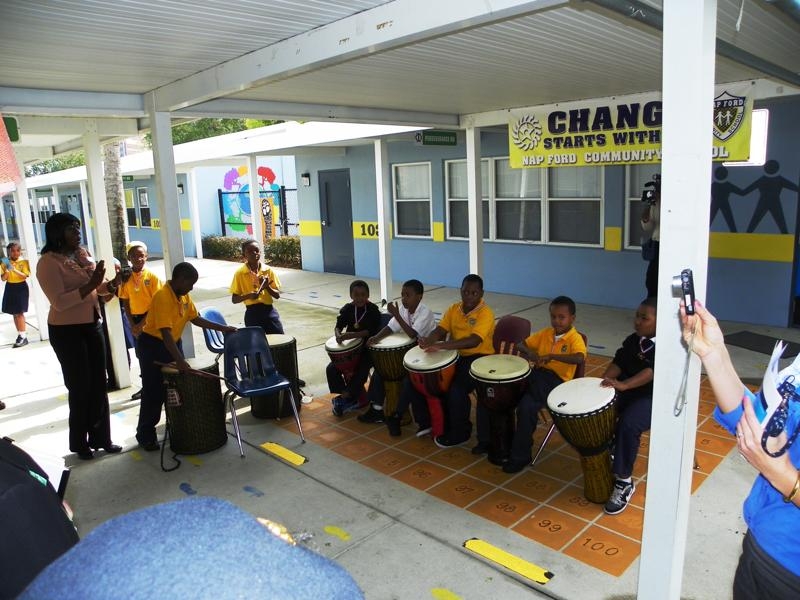 Administrator Cobb, gave opening remarks which were followed by a keynote message from the President's Council on Fitness, Sports and Nutrition Member Dr. Stephen McDonough, who congratulated the Orlando community for its fine work to reduce obesity, while warning that it would take a generation committed to change to stop what has become an alarming trend.   Joining Cobb and McDonough at the event were Florida Congresswoman Corrine Brown (D), Windemere Mayor Gary Bruhn, numerous state and local officials, community and educational leaders and two students from Nap Ford Community School, the co-host for the Orlando event.  Hailee Rogers, 8 years old, led the gathering in the pledge of allegiance and Selamdesta Murray, & years old, explained the benefits of consistent exercise and healthy eating habits.
Following the opening session at city hall, the group journeyed to the Nap Ford Community School, where 90 percent of the students receive free or reduced lunch.  Arriving at the school, the group was met by Principal Dr. Jennifer Porter-Smith and a rousing African drum performance and reception provided by five male students at the K -6 charter school.  The U.S. Department of Agriculture's Power Panther joined the visitors and students in rocking to the festive drum beat before the group moved to the lunchroom for a healthy lunch consisting of a wrap, a bag a carrots, cauliflower, sun chips and water.
The Let's Move Orlando delegation then visited the Nap Ford Community garden.  At the garden, Dr. McDonough again proved his mettle as an outdoorsman by dropping to his knees and digging a hole (without a shovel!) and planting a tree in honor of the anniversary.
After walking the half-mile back to the bus -- in the spirit of Let's Move! -- the group returned to city hall, where Mayor Dyer presented a proclamation to RADM Cobb and took a picture with the entire Let's Move! Orlando delegation, accompanied by a rousing ovation and in the presence of cable, NBC, ABC, and Fox affiliates and 300 onlookers.
Dr. Toni Moody, director and coordinator of the entire event and CEO of Healthmasters, thanked the regional director, RADM Cobb, Dr. McDonald and all involved.
All in all, the event was wonderful and an important tribute to the Let's Move initiative.