Celebrating Washington, DC's first Gold Award of Distinction in USDA's HealthierUS School Challenge
I had the pleasure of celebrating the top notch achievement of the Elsie Whitlow Stokes Community Freedom Public Charter School as USDA Under Secretary Kevin Concannon and District of Columbia State Superintendent of Education Hosanna Mahaley presented this great school with a HealthierUS School Challenge Gold Award of Distinction.  The award represents the highest honor a school can achieve in the Challenge and they couldn't have done it without the committed leadership and staff at this special school.  This school is truly a role model and the award puts them on the map as the first school in the nation's capital to earn the Gold Award of Distinction.  E.W. Stokes is a diverse pre-school and elementary school providing instruction in two languages.  Their unwavering commitment to sharing the benefits of physical activity and making good food choices is evident in everything they do!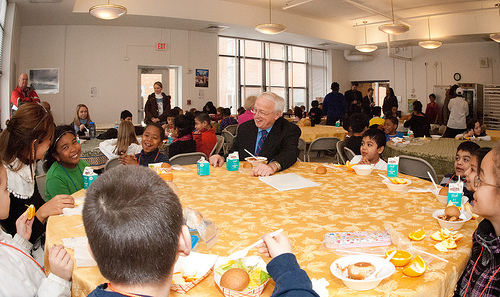 We dined on a very tasty and visually appealing lunch with students who just couldn't get enough of the Asian-inspired baked chicken, brown rice, and sautéed spinach.  I would have loved to have sampled the vegetarian option, featuring a chickpea and cauliflower curry but I was full.  I have it on good authority from the smiling faces around us that it was simply delicious!   As for physical education, this school takes the First Lady's Let's Move! mantra to a whole new level!  Kids can dance, play soccer, basketball or volleyball, learn yoga, go swimming, or practice Tae Kwon Do.  So many choices and something for everyone!  Almost makes me wish I could join them—especially on the basketball court!
One of the First Lady's biggest priorities is improving the health of our nation's children through the Let's Move! initiative, and a big part of that effort is getting more schools to participate in the HealthierUS Schools Challenge.  As we approach the anniversary of Let's Move!, it's wonderful to see how much we've already accomplished.  From participating in HUSSC to improving school meals, there are so many things schools like E.W. Stokes are doing to help children get a  healthy start that can last a lifetime.
Thank you, E.W. Stokes for hosting our celebration and building a solid foundation for students to develop healthful habits that will last them a lifetime. I hope more schools in the District—and around the country—follow your lead.