New Dietary Guidelines Urge Consumers to Enjoy Food, but watch Calories In, Calories Out
Today I had the honor to join the Secretary of the Department of Health and Human Services (HHS) Kathleen Sebelius to release the 2010 Dietary Guidelines – a science-based roadmap to give busy individuals, moms and dads the information to make thoughtful choices for themselves and their families. It was inspiring to see so many young people in the audience, followed by important health and nutrition questions from George Washington University students.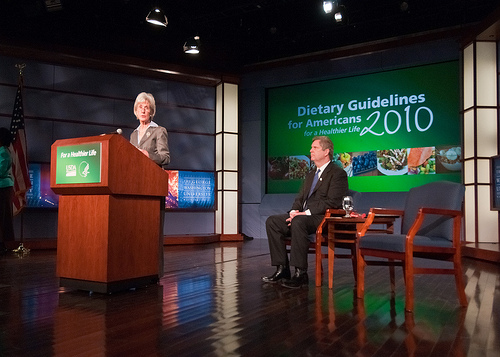 The Guidelines reinforce what folks already know – that healthy lives are built on a foundation of calories in, calories out.  To maintain a healthy weight and avoid the complications and potential health risks of being overweight, calories in should equal calories out.  If your goal is to lose weight, calories out must exceeded calories in.
Regardless of your goals or age, you should eat healthier foods in the right portions. Today we talked about filling half of your plate with fruits and veggies. Families should work to maintain a balanced diet rich in fruits, vegetables, whole grains, lean protein including fish, and low fat dairy while taking care to limit sodium, sugar and fat. USDA even has a Menu Planner tool that I have found useful to see what foods I should be eating based on my age and level of physical activity.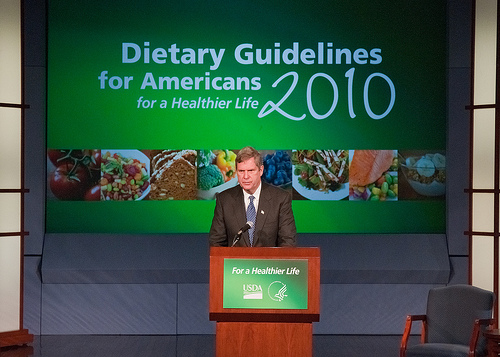 Balance that healthy eating with regular physical activity of at least 30 minutes a day, five times a week, for adults and 60 minutes a day for children and we have a recipe for healthy lifestyles. The 2010 Dietary Guidelines offer a science-based roadmap that can be used by busy individuals, moms and dads, as well as health and education professionals.
Today we face a national health crisis with the majority of adults and one in three children are overweight or obese. And this is a crisis that America can no longer ignore. And so today we acknowledge that we all have room to improve our eating habits and get more physical activity. It is not only good for every individual and family, but also for our country.
If you missed this morning's livestream, you can watch or listen online. Be sure to check out the 2010 Dietary Guidelines here, and for more information on dietary guidelines, see www.health.gov/dietaryguidelines and www.healthfinder.gov/prevention
Cross posted from the USDA Blog.