Utah's Alpine Elementary Earns 2010 Oberstar Award from National Center for Safe Routes to School
Despite a mix of rain and snow, Alpine Elementary School students in Alpine, Utah, began their morning last Wednesday with yet another successful Walk to School Day. It was a great way to kick off their Safe Routes to School Award presentation.
You see, the National Center for Safe Routes to School has selected Alpine ES for its 2010 James L. Oberstar Safe Routes to School Award, a national honor that recognizes outstanding achievement among the more than 10,000 Safe Routes to School programs.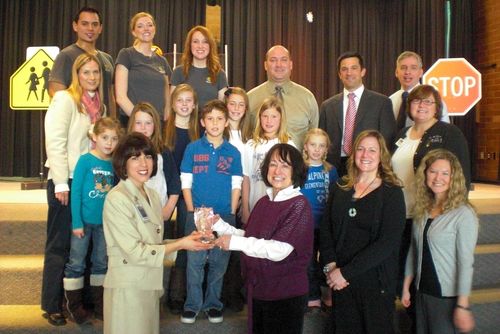 "Alpine, Utah, embodied everything the safe routes to school is all about," said Lauren Marchetti, Director of the National Center.
Alpine Elementary School has worked very hard to encourage their students to walk and bicycle to school, and to help them do so safely. Between September 2008 and May 2010, they increased the number of children who regularly walk and bicycle to school from 35 to 50 percent.
That's a big jump, so it's no surprise they earned the 2010 Oberstar Award.
"It's been a big tribute to the parents and to the kids for their commitment to being healthy and walking to school safely," said Alpine's principal Cami Larsen.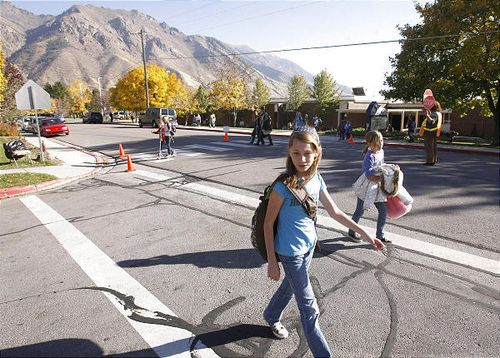 The school uses creative strategies to encourage families to shift habits to a less car-focused commute. They've had assemblies, safety poster contests, and pedestrian safety walks. They even had a bicycle rodeo for students.
That sounds like a lot of fun.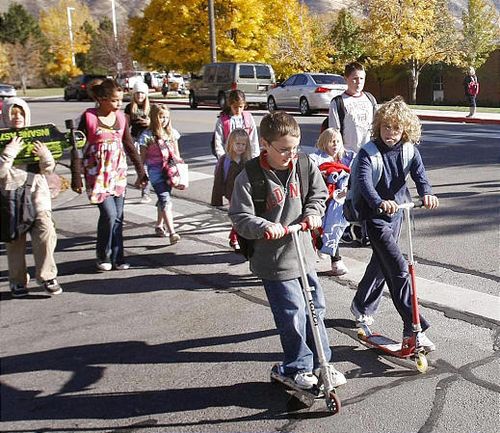 James Christian, from the Utah office of our Federal Highway Administration, said:
"We want to help come up with safe ways to help children walk, ride their scooters or bike to school. It's a healthy way to get around, and it really fits with the First Lady's Let's Move inititiative. Plus, it saves gas and helps cut down on the amount of pollution in our air. The Alpine Elementary School exemplifies what the Safe Routes to School program is all about.  They have created an atmosphere where it's safe and exciting for kids to walk and bike to school. "
Alpine also applied for federal grants through the Utah Department of Transportation and received $71,500 to install four solar-powered speed-limit signs, build a new walking and bicycling trail and improve the bike storage area at the school. The city of Alpine pitched in, too, donating $125,000 in labor and materials to improve sidewalks and crosswalks near the school.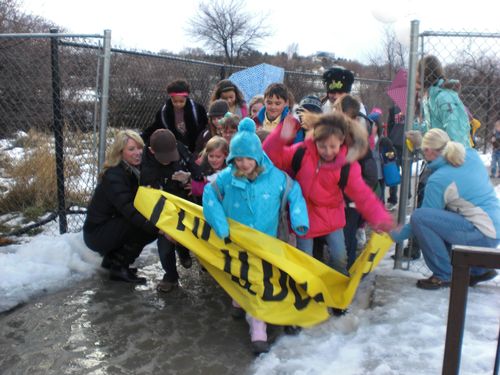 Alpine's program also has benefits beyond just learning how to safely walk or bike to school. The Alpine students partnered with the Candle Light School in Kenya. Through the Safe Routes program, students have walked over 72,000 miles and raised enough money through private donations to purchase three months' worth of lunches for the entire Candle Light student body.
Between the health benefits of biking and walking to school, the environmental benefits of less traffic in the Alpine school zone, and the generous spirit of their donations to the Candle Light School in Nairobi, Alpine Elementary School certainly has a lot to celebrate.
Congratulations to Principal Cami Larsen and everyone in the Alpine community!
Ed. Note:  This blog originally appeared on Fast Lane: The Official Blog of the Secretary of Transportation.