California Chef Partners with Local Elementary School for Chefs Move to Schools Program
Earlier this fall, in conjunction with International Chefs Day, Chef Melinda Burrows had the opportunity to team with Fremont Elementary School in Alhambra, California, to help launch their Chefs Move to Schools program.
They did so in grand style. With three school assemblies focusing on harvests, the popular event centered around chef-led demonstrations featuring spaghetti squash, pumpkins, and other varieties of healthful foods.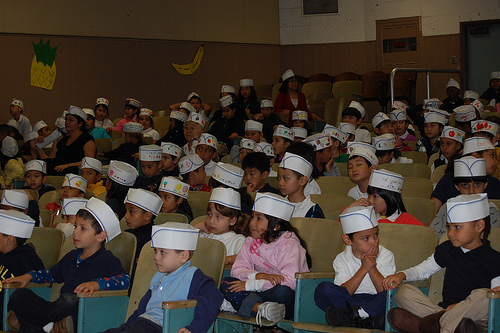 Chef Burrows said she became involved with the Chefs Move to Schools program by simply answering First Lady Michelle Obama's call to service.  Through the initiative, the First Lady has encouraged chefs to adopt a school and work with teachers, parents, school nutritionists and administrators to help educate kids about food and nutrition.
The Morrison Senior Living executive chef, who works in the school's community, chose Freemont for several reasons: "As an Executive Chef I love teaching others, especially children, about healthy and nutritious foods and how to cook them.  I know that little minds are sponges and can be inspired to do amazing things, like learning how to cook.  My Grandma Sendejar was the one who inspired me to learn when I was six years old.  I wish to give back what was so freely given to me."
Her story is not unique, as chefs across the country have been motivated to take their unique talents to benefit young, hungry minds in our nation's schools.
Chef Burrows also happens to be the parent of an eighth grade student at Fremont Elementary School.  Her son has shown great interest in following in his mother's footsteps.  Along with her other three children and husband, the family has always shared a love of eating good, nutritious food.  And this collective love of cuisine made the program a natural fit for her expertise.
"Earlier this summer before the American Culinary Federation (ACF) National Convention, I participated in a community service event with the Chef and Child Foundation.  A group of chefs spent the day at Hermosa Village, a low-income housing development, working with the families through four food stations.  The focus was on healthy and nutritious eating.  It was an inspiring day which lead me to the Chefs Move to Schools program."
Last month, Burrows planned a chef demo and an on-site registration for the Chefs Move to Schools program to engage other principals in the program.  Thanks to her passion, more school leaders will likely follow her selfless lead.