Let's Move! Goes to the Pop Warner Football, Cheer & Dance National Championships
The First Lady's Let's Move! initiative came to life recently at Disney's ESPN Wide World of Sports Complex in Orlando, where thousands of children from across the nation participated in the Pop Warner Football, Cheer and Dance National Championships. As Executive Director of the President's Council on Fitness, Sports and Nutrition, I was excited to join the festivities and witness so many young people engaging in positive and healthy lifestyles which can carry them into a healthy adulthood.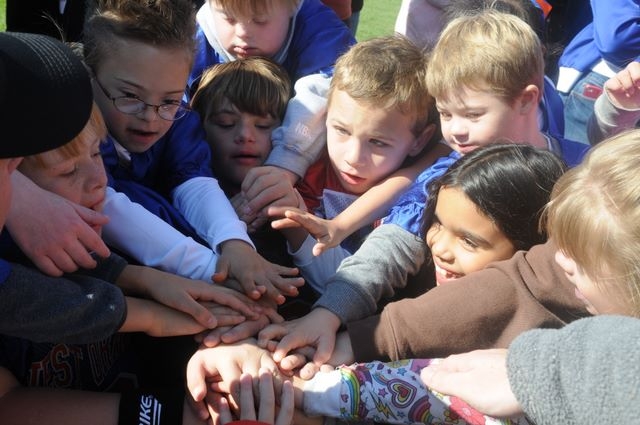 Pop Warner Little Scholars, a President's Challenge Advocate through the office of the President's Council, uses organized athletics to develop smart, active and healthy young men and women who recognize the value of regular physical activity, good nutrition – and education. As the nation's largest and oldest youth football, cheer and dance organization, Pop Warner is also the largest youth sports organization which emphasizes academic performance as a prerequisite for participation. Imagine a national championship sporting event with an academic lab as big as the championship fields – complete with computers and tutors!
Athletes of all abilities are encouraged to play, cheer, and dance, and it was especially heartening to share in the excitement of the Challenger division programs for both cheer and football which provides the same opportunities for youth with special needs to participate. As the official coin-tosser for the Challenger flag football game, I enjoyed hearing my young friend and team captain Michael encourage positive sportsmanship for all his peers. Local high school athletes coached the players one-to-one on the field and worked closely with them to develop plays that enabled every participant to score a touchdown. Talk about positive role models and inclusion for all abilities!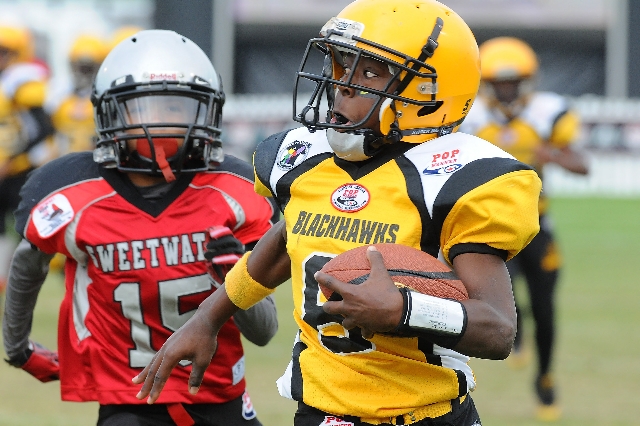 Inside the arena, 300 cheer and dance teams represented regional bests and displayed great fitness and athleticism – and spirit. And the crowd favorites for yet another year continued to be the Challenger teams with young girls of different abilities enjoying their spot in the limelight as athletes, too. Not a dry eye in the house as these special needs athletes jumped, cheered, and caught sight of themselves on the big screen with thunderous applause rewarding their efforts.
Pop Warner's mission is to make the game fun for all boys and girls. The program strives to teach valuable lessons beyond the playing field and dance stage, including self-discipline, teamwork, concentration, friendship, leadership, and sportsmanship.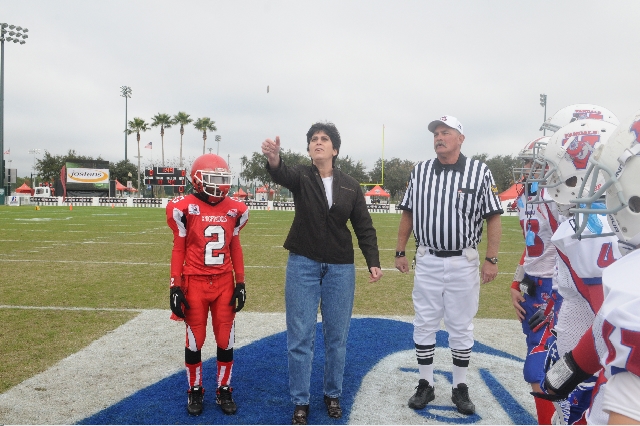 It was so rewarding to join in their celebration across so many storied teams and participants, and I applaud all the youth sports organizations that follow in the model of creating healthy and positive opportunities for kids and teens of all abilities, all backgrounds, and diverse skills and interests. It's important for our goal of a physically active nation, and it's important for the health of our communities to develop self confidence, improve academic performance, and provide a safe and nurturing environment for healthy development.