PALling Around With The Police Athletic League
First Lady Michelle Obama traveled to Harlem, NYC to check out an innovative partnership between a local elementary school and the Police Athletic League (PAL). I knew we were close to our destination when I saw throngs of people outside on the streets waving at our cars. Entering the Police Athletic League's Harlem Center, we saw 75 kids in matching t-shirts waiting for us. The First Lady's visit was a surprise and we heard screams of delight as she entered the gym.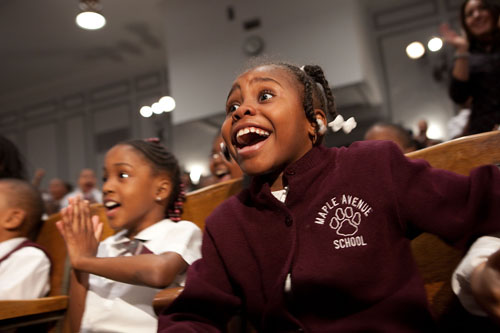 The Center's program is the result of a creative partnership between the Police Athletic League, local schools and public officials to provide children with a place for physical activity because their schools no longer have enough class time for students to be active every day. We wanted to see how this creative partnership is working to solve a serious problem. With assistance from a government grant, students come to the Center at lunchtime and after-school to learn about good nutrition and get physical activity. The First Lady emphasized the need for both:
"And did you know that kids who eat healthy food and do regular physical activity actually do better in school? What you guys are doing here at this Center isn't just good for your body, it's also good for your mind. "
After her speech, the First Lady participated in three athletic stations: basketball drills, a team maze and circuit training. And you should see her do push-ups! I'm now practicing everyday to keep up with her.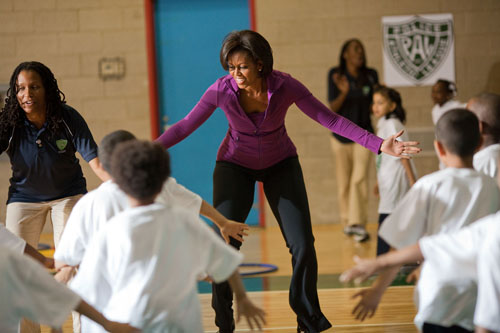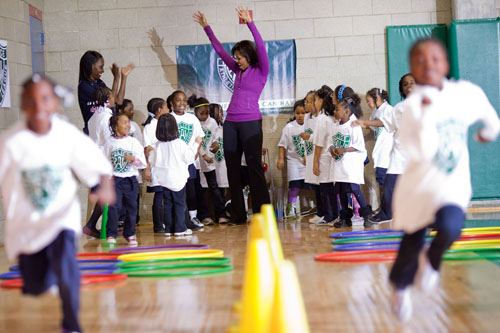 Our hope at Let's Move! is that more programs like this partnership are replicated around the country. Schools need help, often facilities are unused during the day and with a little creativity we can all do our part to ensure that kids get the 60 minutes of physical activity they need everyday.