Success Story: After Walk to School Month, Let's Keep Moving
As an incredible Walk to School Month comes to an end, a record-breaking number of communities – over 3,500 – from all 50 states, the District of Columbia and Puerto Rico celebrated an active trip to school in October 2010. The challenge - and opportunity - for all American families is to continue that excitement and focus on getting out and moving more each day, every day. Not just during the official month of celebration.
Let's take a quick look across the U.S. – from east to west – and showcase creative ways communities are presenting students and families with a fresh perspective on how to get (and keep) moving on the way to and from school.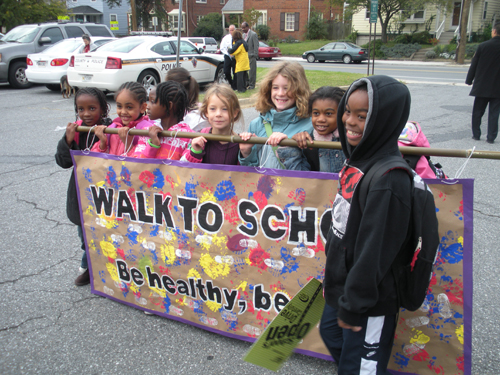 In Spartanburg, S.C., Houston Elementary School students went beyond a one-day celebration. They embarked in a fitness adventure with a "Walking and Wheeling Wednesdays" program that was held over the five Wednesdays leading up to the school's official Walk to School Day event in October.
"Our goal for Walk to School Day was to extend participation to families that do not live in walking distance and promote a sense of school community and healthy lifestyles," said Walk to School organizer, Nick Isaksson.
Traveling north and west to Bismarck, N.D., Pioneer Elementary School partnered with several community organizations for their health-focused Walk to School Month celebration, including Bismarck Mandan, an organization dedicated to making Bismarck a healthier community, the Emergency Room Nurses Association, North Dakota Safety Council, a local grocery store and the school's dietician. In addition to bringing many like-minded members of the community together, this event was led by the sixth grade students. Getting students involved in the movement is a great way to engage them and to get them to consider the benefits of physical activity at an approachable level.
"Walk to School Day served as a springboard for safety and family cohesion at Pioneer Elementary. As a result of Walk to School Day, we were able to get a crossing guard at a busy street [children cross while travel to school]," said Kurt Weinberg, elementary physical education specialist at Pioneer Elementary.
Continuing this virtual Walk to School voyage to the West Coast, Alhambra Unified School District in Alhambra, Calif., celebrated Walk to School Month for an entire week in October.  Students created and carried signs that promoted healthy breakfasts and daily physical activity during their before-school celebrations. This will the 10th year the school district has come together to celebrate Walk to School Month.
This year, the Alhambra School District had many partners to support their Walk to School endeavors, including Network for a Healthy California Program, Alliance for a Healthier Generation Healthy Schools Program, American Heart Association, American Cancer Society, Power Play Campaign and the Dairy Council of C.A. The Alhambra School District promotes healthy lifestyles all year long with activities throughout the year such as making a 300 pound salad each year, and encouraging parents to attend nutrition classes.
"Walk to School Month helps us promote positive steps towards our healthy schools," said Judy Huffaker, Walk to School organizer and nutrition education specialist.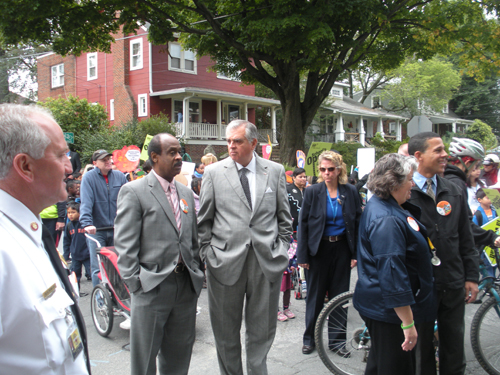 I'm also pleased to report that many representatives from the U.S. Department of Transportation (DOT) and Federal Highway Administration (FHWA) got out across the country to celebrate Walk to School Day and to exercise the Let's Move! message.  It's encouraging to see support for an active trip to school at so many levels within the nation's transportation organizations – from U.S. DOT Secretary Ray LaHood and FHWA Administrator Victor Mendez who joined students at East Silver Spring Elementary School in Silver Spring, Maryland, to FHWA Division Representatives and State SRTS Coordinators across the country.
Walk to School events grow in popularity each and every year, and I think our country's increased interest in encouraging healthier lifestyles – like with the Let's Move! initiative – has something to do with this year's impressive response. As the director of the National Center for Safe Routes to School, the clearinghouse for the federal Safe Routes to School program, I am encouraged to hear and see the notions of increased physical activity and parent engagement, and the healthy lifestyle message as a whole are really resonating with local organizers and communities across the country.
Walking and bicycling to school are more than good transportation options – they're healthy choices for a lifetime. Every Step Counts!
To learn more about the Safe Routes to School program and for tips on getting something started in your neighborhood, visit www.saferoutesinfo.org.