Success Story: "Mother Of Many" Partners With Los Angeles High Schools
It all began in 2008 when I saw how much fun students from Dorsey High School's Culinary Arts Program had preparing healthy meals for election volunteers. As the founder and Executive Director of the non‐profit educational organization, Mother Of Many (M.O.M.), I decided to partner with Dorsey's culinary instructor Erevetta Marzette in 2009 and created the student‐produced "Cooking Live With Dorsey High," a WebTV healthy food series. Inspiring a move towards healthy cooking and eating seemed completely possible within one school. I never imagined, however, that Cooking Live with Dorsey High would bring rival high schools together in the spirit of "healthy eating!"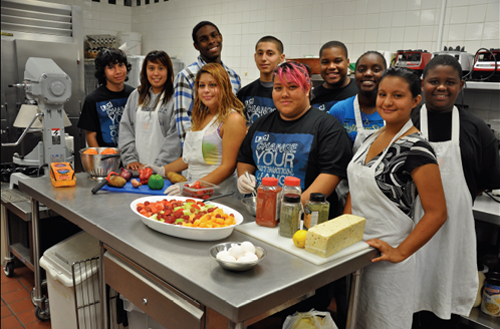 This year students from Los Angeles high schools, Crenshaw, Dorsey and Hamilton, are ready to "turn up the heat" in the kitchen as they head into the third season of Cooking Live with Dorsey High. The esteemed members of M.O.M.'s Crenshaw and Hamilton High Digital Media Team will produce the 2010‐2011 series. With a line‐up of affordable, healthy meals and surprise guest chefs, our shows will highlight recipes for success recommended from the First Lady's Let's Move website including planting a garden and offering hands‐on community cooking classes.
We got off to a good start this school year with a full plate of inspiration when Mother Of Many students visited the White House. It was an exciting reward for two years of working hard on their "Journey to the White House" campaign. One of their favorite activities while at the White House was meeting Sam Kass, Assistant White House Chef and Food Initiative Policy Advisor. On a tour of the First Lady's garden on the South Lawn, Mr. Kass proudly identified and quizzed the kids on the abundant and colorful eggplants, okra, squashes, tomatoes and herbs.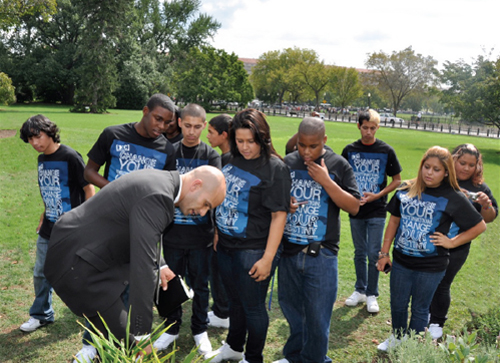 The students were inspired by the bountiful garden and told Mr. Kass of their plans to establish a garden within Crenshaw High School's 2.5–acre gardening space. They also asked Mr. Kass to extend their invitation to the First Lady's Let's Move! nutrition team to support and empower their own health and wellness journey by partnering with them.
"When Mr. Kass told us we're the kind of group the Let's Move! team wants to work with, growing and cooking our own food at school became much easier to imagine," said student Joanna Morales. "We want to be an example and inspiration to other schools by supporting the Let's Move! initiative in our own backyard," added Trestan Fairwether, a student.
We are so fortunate to have a 2.5–acre garden space located on an inner‐city high school campus in a community where diabetes is overwhelmingly prevalent! Working with the Let's Move team would empower our students to take nutrition lessons to heart and inspire them to take what they've learned at school into their homes and their neighborhoods.
Mother Of Many encourages community organizations to support the Let's Move! Recipes for Success.