The First Lady's Fall 2010 Kitchen Garden Harvest
The rain stopped and the sun came out just in time for the First Lady's Fall 2010 Kitchen Garden Harvest. Joined by more than 25 students from Washington, DC's Bancroft and Tubman Elementary Schools, the First Lady and several world-renowned chefs spent the afternoon in the White House garden digging up sweet potatoes, clipping herbs, picking tomatoes, and admiring the pumpkins before sitting down to enjoy a fresh salad from the garden.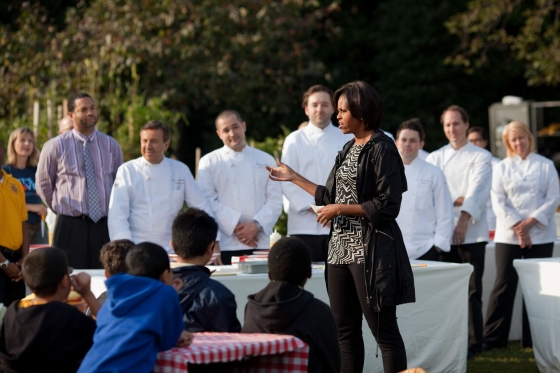 The school-children were paired with chefs Daniel Boulud and James Kent as well as several White House chefs.  Armed with large baskets and wheelbarrows, they scoured the garden for peppers, broccoli, tomatoes, lettuce and other fall vegetables.   The First Lady joined them, rolling up her sleeves, to dig up enormous sweet potatoes, including a near record-breaking four pounder, and to pick deep purple egg plants. The children and the First Lady also admired the two pumpkins growing in the garden – just in time for Halloween.
In less than an hour, the children and chefs brought baskets brimming with vegetables and overflowing wheelbarrows to weigh- stations where several hundred pounds of food was collected and washed.
The festivities continued when the children joined the famous chefs to slice and dice vegetables for a garden salad meal.
The White House garden is part of the Let's Move! Initiative which seeks to end childhood obesity within a generation through improved nutrition and increased physical activity.  In the spring of 2009, the First Lady and students from the DC area broke ground for the garden and since then nearly 1,600 pounds of food has been harvested.  The produce is used in the White House but is also donated to local area food banks.  The White House Garden has inspired communities across the country to plant similar gardens at schools, in abandoned lots, and in community spaces.
Connecting chefs, gardens, and schools has been a critical component of the Let's Move initiative.  Through the Chef's Move to Schools program and the Healthier US Schools Challenge hundreds of schools and communities are improving the health of America's children.  What are you waiting for? Plant a garden at your school or in your community and have a harvest yourself.