A Colorful Salad is a Great Addition to Lunchtime
National School Lunch Week is a great time to remember the important role that healthy meals play in our daily lives.  Parents, teachers, kids, schools and communities – there's a way for everyone to take action and get engaged with Let's Move! 
Here's another fun and easy lunchtime recipe - and don't forget to enter your favorite recipe in the Recipes for Healthy Kids competition.
Today's Recipe: Edamame Succotash Salad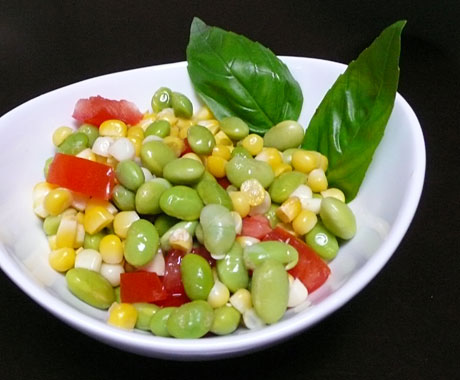 Ingredients
2 tablespoons extra-virgin olive oil
1 medium onion, chopped
1 bag (1 pound) shelled edamame (soybeans), thawed
1 bag (1 pound) frozen corn, thawed, or 3 cups fresh-cut corn kernels (from about 4 ears)
2 large ripe plum tomatoes, diced
1 1/4 teaspoons kosher salt
1/4 teaspoon freshly ground black pepper
1/4 cup minced fresh chives or basil
Preparation
Heat the oil in a 4-quart saucepan over medium heat. Add the onion and cook, stirring often, until softened but not browned, 4 to 5 minutes.
Add the edamame and corn and cook, turning often, until heated through, about 7 minutes. Stir in the tomato, salt and pepper. Let cool and then chill if packing in a lunch box. When ready to serve, stir in the chives or basil.
Recipe courtesy of Epicurious.com