Nature Champions Reach out to America's Children
I recently attended a workshop held by the National Environmental Education Foundation (NEEF) to educate pediatric health care providers about prescribing outdoor activities to children and families as part of their Children and Nature Initiative. As a pediatrician working in Washington, DC, I see many patients that face chronic illness as a direct consequence of childhood obesity. Many of today's children have become creatures of the indoors, spending countless hours in front of TV and computer screens, to the detriment of their physical and mental health.
NEEF's Children and Nature Initiative helps pediatric health care providers present kids and their families with opportunities to improve their overall health by spending more time being active outdoors. Health care providers partner with local representatives from the U.S. Fish and Wildlife Service, National Audubon Society, U.S. Forest Service, and National Park Service to connect families to safe and easily accessible outdoor areas. During the workshop, I learned all about the scientific evidence that links children's health to regular time outdoors. Studies suggest that children who spend time outdoors have improved attention spans and mental health as a result of being in nature.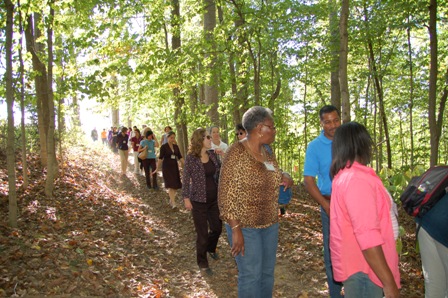 As one of NEEF's "Nature Champions," I will put this science to practice by using specially designed prescription pads, patient brochures, and environmental history forms to encourage children to visit National Parks in the DC area. For example, at C&O Canal National Historic Park families can participate in a wide array of recreational programs and events for kids, including the Let's Move Outside Junior Ranger program and other self-guided walks and bike rides. For those who prefer water sports, the park offers affordable canoe and kayak rentals from March through the fall. In addition to encouraging my patients to spend more time outdoors in a region rich with nature at our backdoor, I will call upon my pediatric colleagues throughout the Washington DC area to do the same. NEEF's program asks each Nature Champion to train 30 other heath care providers in 2 years, following a successful model that will enable us to reach hundreds of thousands of children and families. I'm honored to be part of this innovative program that helps families make outdoor activity a part of their daily routines.