Celebrating National School Lunch Week with Healthy Recipes
This week is the 65 anniversary of the National School Lunch Program, which has more than 31 million participating children and is aimed at preventing hunger and promoting education by providing students access to safe, balanced and affordable meals at school. To celebrate National School Lunch Week, we're teaming up with Epicurious.com to feature some delicious and healthy lunch recipes. Each day this week, you'll find a new recipe on the blog – and we encourage you to share your favorite lunch recipes on the Let's Move! Facebook page.
Today's Recipe: Peanut Butter Berry–Wich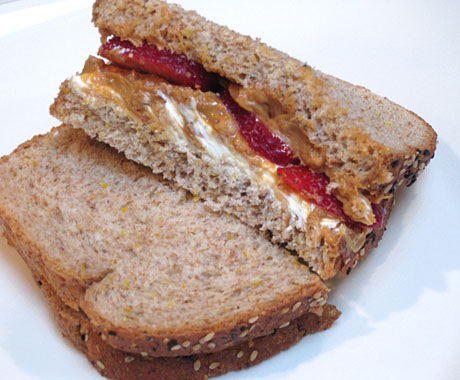 Peanut butter goes well with more than just jam, and this interesting combination proves it. This is delicious with whatever fruit is in season.
Ingredients
2 slices whole-wheat bread or Banana Bread
1 tablespoon natural peanut butter
1 tablespoon softened Neufchâtel (reduced-fat) cream cheese
2 medium strawberries, hulled and sliced
1 teaspoon honey
Preparation
Lay the bread slices on a work surface. Spread the peanut butter on one slice and the cream cheese on the other. Arrange strawberry slices in an even single layer on top of the peanut butter. Drizzle the honey on the berries and then place the other slice of bread with the cream cheese on top. Cut into halves or quarters. Recipe courtesy of Epicurious.com
See other recipes in this series: