Surgeon General Takes Her Fitness Walks to Mobile, AL
Since becoming Surgeon General, I've led fitness walks across the nation – from Baltimore to Los Angeles to the Grand Canyon. But it was a special treat for me when I traveled back to my home state of Alabama to lead a 1.2 mile walk in Mobile with more than 200 residents.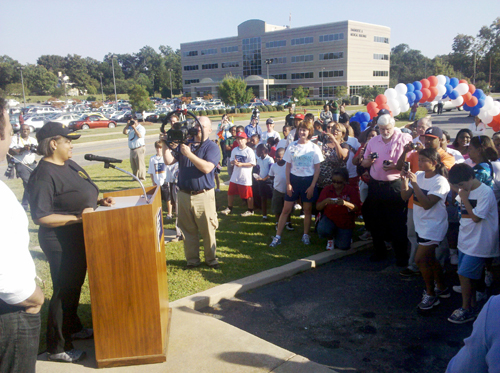 The walks are one way of calling attention to the "Surgeon General's Vision for a Fit and Healthy America," which I released in January, and to First Lady Michelle Obama's Let's Move! initiative focused on solving the challenge of childhood obesity within a generation.
Obesity is perhaps one of the most serious health challenges facing the nation.  Since 1980, obesity rates have doubled in adults and more than tripled in children. And the problem is even worse among black, Hispanic and Native American children.  Nationally, more than two-thirds of adults and more than one in three children are overweight or obese.
Alabama is one of nine states whose adult obesity rates are above 30 percent. In Mobile County, about 68 percent of adults are either obese or overweight.  These high obesity rates are playing out through increased rates of chronic diseases such as diabetes, heart disease and other chronic illnesses – some of which are increasingly affecting our children.
Prevention is the foundation of our nation's public health system, and prevention is the foundation of my work as Surgeon General. So I'm proud to report that the people of Mobile are embracing the concept of community prevention.  My Vision for a Healthy and Fit Nation and the First Lady's Let's Move! initiative takes a comprehensive approach that engages families and communities, as well as the public and private sectors. We need an emphasis on community awareness that crosses generational lines and offers solutions.  
The people of Mobile have shown they understand the value of community-based prevention efforts. In September, HHS announced that the Alabama Department of Health in Mobile County received a $3 Million award from the "Communities Putting Prevention to Work" program for tobacco prevention.  
And as part of my most recent visit to Mobile, the community also launched a new initiative called "Young and Mobile" to tackle childhood obesity. Public and private organizations, including the City of Mobile, the Mobile County Commission, the Medical Society of Mobile County, the Mobile Sports Authority, Mobile United, Leadership Mobile, and Youth Leadership Mobile, have teamed up with Grant Roberts, one of Hollywood's top celebrity trainers, nutritionists, and fitness experts.  He has dedicated himself to helping communities encourage healthy lifestyles and is also known for training Hilary Swank for her Oscar-winning role as a prize-fighter in the movie "Million Dollar Baby." 
This initiative has created a community-oriented web site that acts as a virtual trainer for individuals, and an educational tool for community groups, businesses and families.  This learning tool reinforces a holistic approach to health and wellness and promotes nutrition, exercise, rest, recovery, replenishment and the importance of embracing a competitive spirit.  I attended the announcement of this new initiative at a press conference held at Dodge Elementary School in Mobile, where Young and Mobile received an enthusiastic response from 1,000 of the school's students. It appears to be off to a good start.
There is a growing consensus that we, as a nation, need to create communities and environments where the healthy choices are the easy choices and the affordable choices. I'm proud to report that the people of Mobile are taking important steps in that direction.