Soccer on the South Lawn
Getting 60 minutes of play every day is important and yesterday students from several Washington, DC elementary schools got their 60 minutes on the south lawn at the White House. As part of the ongoing South Lawn Series, players from the DC United soccer team led the kids in drills and games, showing them just how fun exercise can be. The students ran, jumped, kick soccer balls and ended the day with apples as a healthy snack.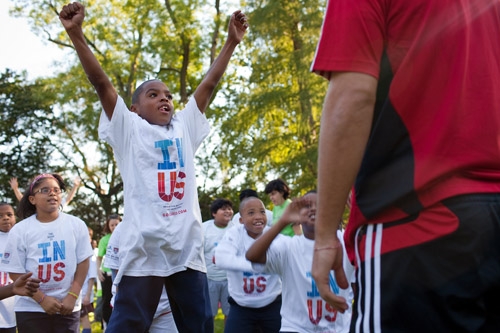 Part of the Let's Move! initiative, the South Lawn Series has hosted events throughout the summer and fall that bring local children, sports leagues, community programs and coaches together to participate in sports, games and activities. Playing sports, like soccer, is a great way to get moving but, even if you're not playing an organized sport, grabbing a ball and heading outdoors is good way to get your 60 minutes and have fun - and don't forget to keep track of your activities and earn your Presidential Active Lifestyle Award (PALA).