Stay Active This School Year with Let's Move Outside and PALA
Now that summer is over and school is back in full swing, kids have less free time - and more homework than they did a few months ago. Fun in the sun at the beach, playing kickball with friends, and riding bicycles around the neighborhood, have been replaced by jam-packed routines that can make even the hardiest little adventurers beg for a nap. But outdoor fun doesn't have to end just because school work has begun! Dozens of national parks provide school-based programs that get kids moving outside. Each fall at Colorado National Monument, 4th graders embark on a 5-mile geology hike as part of their environmental education curriculum. In Twin Cities, Minnesota, students learn about the history and ecology of the Mississippi River while building up their biceps in canoes. And for youngsters interested in the Presidency, there's the Junior Secret Service Fitness Test at Eisenhower National Historic Site in Pennsylvania.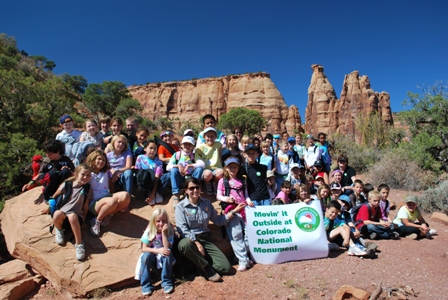 Now, through a partnership between the National Park Service and the President's Council on Fitness, Sports and Nutrition (PCFSN), you and your family can participate in activities that involve physical fitness and learning opportunities like these in fifty-two national parks across the country. This fall, we invite you to take part in a special Let's Move Outside version of the Presidential Active Lifestyle Award (PALA) program. PCFSN Executive Director Shellie Pfohl asks: "What better way to get your body moving and log sixty minutes of physical activity a day than by walking, swimming, biking, or hiking in America's Great Outdoors? Join our team and earn your very own PALA certificate from the President. You will feel great, make new friends, and have more energy to do your homework so you can get good grades!"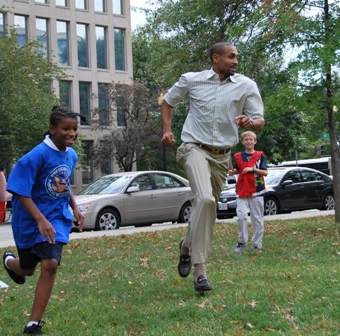 Beginning next week, the new PALA log will be offered in participating Junior Ranger parks and at Let's Move Outside events hosted alongside our partners. Of course, you don't have to visit a national park to enjoy outdoor activities and earn your own PALA! We are lucky to have an incredible network of state and local parks, open spaces, and waterways that provide opportunities to get moving outside in your own neighborhood. Many of these places have afterschool or weekend programs that keep kids active throughout the school year. So this fall, go have fun at an outdoor spot near you! Check out Let's Move Outside for tips on where to go and what to do.