Create an Infographic about the Childhood Obesity Epidemic
The Let's Move! initiative and GOOD are working together to help address the challenge of childhood obesity by raising awareness about the problem and the ways the nation is working to address it.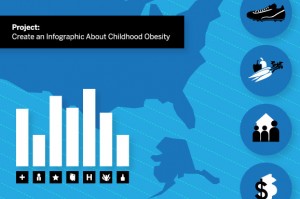 First Lady Michelle Obama launched her Let's Move! campaign to solve the epidemic of childhood obesity within a generation and, as part of this effort, President Obama established the White House Task Force on Childhood Obesity to develop an interagency action plan to solve the problem of obesity among our Nation's children within a generation. Last month, the Task Force released their action plan to meet this goal.
Now, people around the country can help raise awareness by creating an infographic (or information graphic that visually represents information) on this issue. The idea is to create an infographic that shows the current state of children's health and that illustrates some avenue to combat the epidemic, including: getting children a healthy start on life; empowering parents and caregivers; providing healthy food in schools; improving access to healthy, affordable food; and getting children more physically active.
Full project details are available on the GOOD website, including: requirements, ideas for research and inspiration and how to enter. Submissions will be accepted now through July 6.