Easter Egg Roll Ticket Distribution for Schools in D.C. Area
"Who wants to go to the Easter Egg Roll at the White House?" drew scores of raised hands, cheers and applause from 2nd grade students who joined Education Secretary Arne Duncan, D.C. Mayor Adrian Fenty, Schools Chancellor Michelle Rhee and State Superintendent of Education Kerri Briggs at J.O. Wilson Elementary School in D.C. earlier today.
The Secretary traveled to J.O. Wilson to announce the distribution of 3,000 Easter Egg Roll tickets to public school students and family members across the D.C. metro area, including school districts in Maryland and Virginia. Following the announcement, the Secretary toured the school's athletic fields and playgrounds and participated in a discussion with 3rd graders on fitness and nutrition.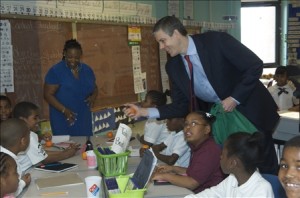 The theme of the 2010 White House Easter Egg Roll is "Ready, Set, Go!" The aim is to encourage students and families to eat healthy and be active. This year's event is tied to the First Lady's Let's Move! initiative, a national campaign to combat childhood obesity by promoting health and wellness. Guests attending this year's Easter Egg Roll on the White House South Lawn will find activities that feature sports courts, cooking stations, yoga, live music, an obstacle course, dance areas and fun active games. Each station will provide a few fun, easy tips on ways to "get rolling" with a healthy lifestyle for families.
The Easter Egg Roll is the largest public event at the White House with approximately 30,000 visitors expected on Monday, April 5th. For more information on the 2010 White House Easter Egg Roll, visit: obamawhitehouse.archives.gov/eastereggroll.